DJ Kinslow shares eight tactics that literally multiplied his revenues 10 times in just under four years.
###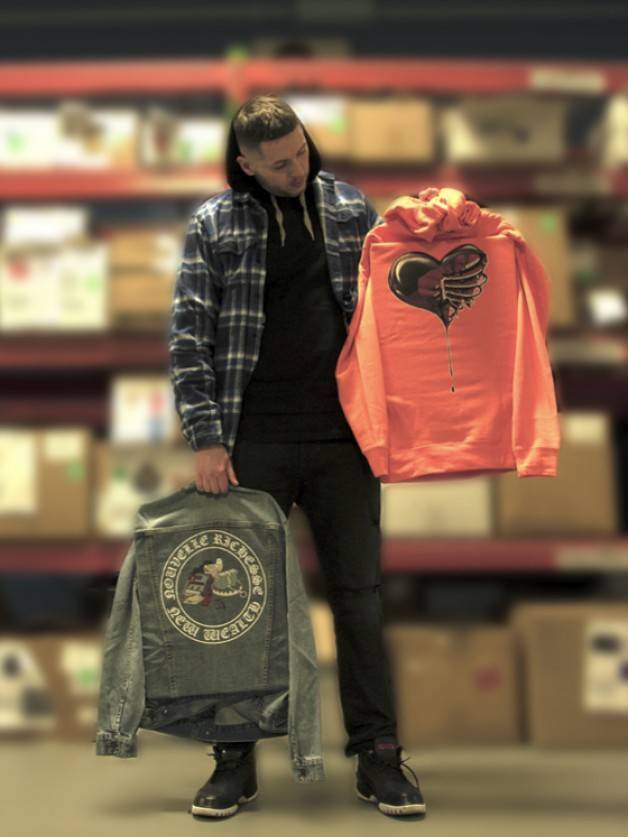 8 Growth Hacks from a Million-Dollar Printer
BY DJ KINSLOW
8 Growth Hacks From a Million-Dollar Printer
In 2017, DJ Kinslow launched his decorating business from his basement, bringing in $80,000 in revenue that first year. Then, he leap-frogged his annual revenues to just under $200,000, and then $400,000. He also grew his staff from just himself to five people, and now to 22.
Fast-forward to 2020: Constantly Create Shop, now located in a 5,000-square-foot space in New Hyde Park, NY, brought in its first $1 million in revenue. "During this pandemic year, we haven't had to downsize our team at all," Kinslow says. "We're thriving."
Kinslow shares eight tactics that literally multiplied his revenues 10 times in just under four years.
Know who your clients are and what they want.
Rather than focusing on the high-volume B2B market, Kinslow's shop works with streetwear brands and entrepreneurs who sell their own branded merch. "We have in-house designers who work with customers on creative logos and artwork," he says. "Then we DTG print or embroider their apparel and ship it right over to them."
This year, after surveying their customers, Kinslow added a new service. "A lot of our streetwear clients want stickers, so we got a large sticker printer to fulfill that need," he says.
Build a solid corporate culture and hire people who thrive in it.
In turn, Kinslow says, his staffers stay for the long haul and treat customers like gold. "We're not fans of micromanaging," he says."Of course, we have our fingerprints all on parts of the business and we train our people, but we don't hover."
In addition, since Kinslow's shop isn't open to the general public, he doesn't require his staff to wear uniforms. "We encourage them to dress in a way that reflects their personality," he says. "When you're willing to let people be themselves, you get a lot more out of them. Yes, that can be risky, but it works for us."
Hire for your shop's most pivotal roles.
Kinslow realized that he needed a full-time customer service rep available to respond to customers on the spot. "As long as the lights are on here and people are working, we have someone who responds to customers right away," he says. "They put out the fires as they come."
"If you want to offer that exceptional customer service experience through your ecommerce platform and social media, then you've got to have somebody on deck to get back to those customers relatively quickly," Kinslow says. "When customers don't get answered, they get antsy. We want to take care of everybody."
With decorated apparel, Kinslow points out, there are a lot of variables that happen in real time, such as, "I ordered the wrong shirt size. Can I change the color of my hoodies? I need to change the shipping address. Can you double-check that my artwork is good enough?"
Use social media to spark creative FOMO.
Kinslow has grown his shop's Instagram followers (@constantlycreateshop) to 80,000 by consistently posting varied, interesting content"When people see our work, from custom logos to embroidery to DTG printing, their creative wheels start turning," he says, "and they can't wait to work with us."
Expert tip: Kinslow has taken full advantage of Instagram's new "swipe up" feature. If your account is verified and has more than 10,000 followers, you can add an active link to an Instagram story slide. When the viewer swipes up, they're directed to the link. "We lead people to our website or landing pages to educate them even more," he says.
Allow people to reach you in a few select ways for the best possible service.
When Kinslow first opened his doors, customers reached out via all channels—phone, text, email, DM and live chat—to learn how his customers preferred to communicate with him. "When you open up all those lines, it's a lot," he says. "Find what works best for your shop and stick to it."
For example, Kinslow encourages new customers to reach out via direct message on Instagram. "We'll say in our stories, 'Hey, if you need a quote, swipe up and leave us all their info," he says. "We also use a live chat via our website a lot. We narrowed our lines of communications to what works best."
Provide custom garments, with low minimums—to fuel self-expression.
"We're in the year of the message right now," says Kinslow, whose shop has DTG printed a lot of Black Lives Matter T-shirts and hoodies. "DTG is perfect for five T-shirts or one hoodie, since there's no setup. People order the garment from our site, we print it, we ship it, and then they're posting photos of them wearing it on Instagram."
This low-minimum, custom garment model works for Kinslow's target audience: influencers, artists, musicians and heads of streetwear brands. "We're helping people communicate their beliefs and passions through clothing, which is definitely allowing people to express their creativity and voice in new ways to their followers or fanbase on social media," he says.
Provide custom garments—to fuel new brands and merch.
In 2020 especially, Kinslow has noticed an uptick in new streetwear brands and a desire for street style merch. "Yes, there are lots of entrepreneurs getting their feet wet with a streetwear brand," he says. "We're also getting a lot of people in the hip-hop, arts and sports communities focused on streetwear merch."
Grow your reach, and cultivate your repeat customers.
Clearly, Kinslow has concentrated on his shop's Instagram game, and it's paid off. "We keep showing off new apparel brands and new artwork to grow that organic reach, for new and long-time followers," he says. "We get messages like, 'I've been following you for a while and now I'm ready to get started.' They might have been our 15,000th or 45,000th follower, so we keep the content consistent and innovative. The volume and frequency of your content is important to a shop's growth for sure. "
Most of Kinslow's customers order on repeat and refer others to his shop. "A lot of that is because they see us posting and responding to comments," he says. "They know we're there. We build their trust in us over time. They know we're real. We come off as people—and that plays a role in our growth."
To date, Kinslow has grown his decorated-apparel business so quickly because he had a clear vision of what customers he serves, how his shop serves them, how he communicates with them and what type of team he needs to stay profitable.