Nowhere is the advice to "Be Yourself" more important than on social media. Learn more.
###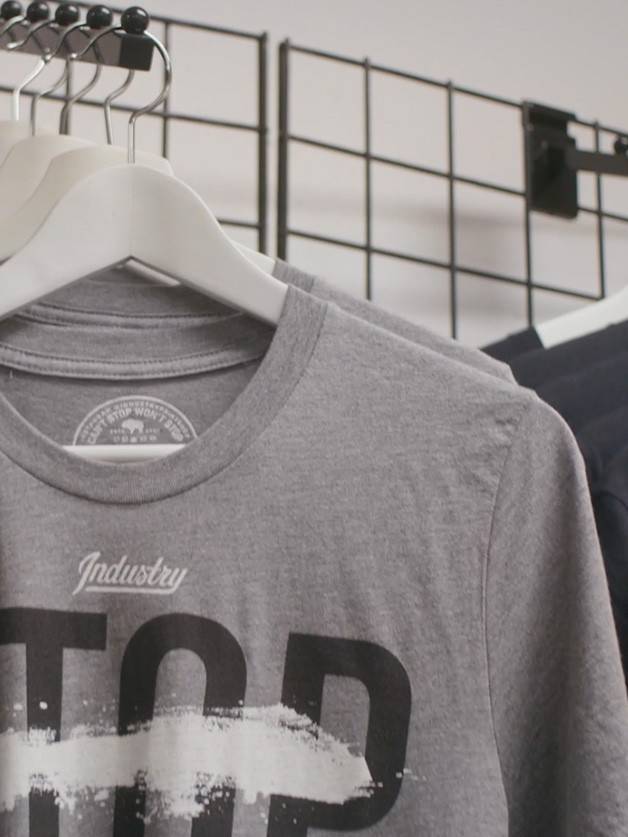 Finding Your Voice on Social Media
BY TONY DIAZ
We post on social media for my company, Industry Print Shop in Austin, Texas, on most social media channels, but we have found we get the most engagement from Instagram. Having been actively engaged on social media since 2016, I've learned some tips that have made our posts more effective.
One overarching goal is to make sure your content authentically communicates your company's culture, ideas, and voice. It's important to speak your language, be who you are, and not who you think your audience wants you to be.
We're a young spirited company. We're cool and contemporary, not because we are trying to be, but because we are. We're comfortable with it, and we're confident. Whatever you put out there is what you are going to attract. But never do something just because you see it's working for someone else.
And that's what your social media should be, an extension of yourself. It's great to tell stories of who's in your shop and what's going on. But I also want to show viewers how I can provide value and elevate their brand through merchandise.
This comes through in your copywriting, and to this day, this is one of our biggest challenges to overcome. Personally, I'm a hustler. I come from the streets, and my vernacular is reflective of my upbringings.
If I want to show appreciation to a client, I'm not going to post copy that reads, "We want to thank our client for …" I'm going to say something like "We want to send a big shout out to our homies…"
Posting a picture on Instagram is easy, but copywriting is hard. I consider Instagram our portfolio and giving a photo the right context through copy requires thought and effort. When someone looks at our page, I want them to see what's possible. Especially when another print shop told them it was impossible.
Another aspect of our shop that we like to highlight on Instagram is our Flatstock capabilities. In addition to apparel, we screen print fine art and posters. I want to appeal to a community that has an appreciation for fine art. There are galleries that sell fine art screen prints for $50,000. They hold tremendous value and weight, and we're proud of that.
Because of our Flatstock printing, we get to work with artists who are my heroes and inspiration, and we like to say "Hey, check out our Instagram and see this poster. We can do this for you." I feel lucky we do the poster printing, because it makes great content.
If there's one thing I've learned during the past eight years doing social media, there's no shortage of content in a print shop. You can show your process and talk about it. You can display your products. There are so many great things to shoot in a print shop, pop into a frame, and drop some copy under it.
We never have any shortage of things to post. It's often the copy that holds things up. I have used help in the past with social media, but it's not easy to train someone else to write copy in my voice. At the moment, it's all on me, and it has been a struggle to fit it in along with rebuilding the business during COVID.
Although it needs to happen and it is a priority, I haven't been able to give it the respect and time it deserves because copy is king, and copy is hard.
To get it done you may have to delegate. If you assign your social media content to another employee, it's important you communicate who you are, your values, how you talk, and what you say. They will be representing your identity and brand, and they can't do that without being told.
Once we get fully set up again, our social media strategy will be to get Instagram back on track and then focus equal efforts on Facebook and LinkedIn. While also working to get more familiar with TikTok, and new apps, such as Clubhouse.
In my opinion, Linkedin can generate a whole lot more sales than Facebook. With Facebook, what's important is educating yourself in activating ads. You don't need to put money behind every post. You want to put money behind ads that are actionable.
With Linkedin, there are more opportunities because you're talking to people who are making decisions, and you can form professional relationships without necessarily having to be a "friend."
I'm happy to share about my personal life on Facebook, but a client doesn't need to know that. On Linkedin, I can talk about a case study that shows something we did for a customer. Maybe it was a restaurant, and another eatery owner sees it and thinks "Wow, that's some great merchandise. We don't have anything like that." It's a platform where you can show off your expertise.
In my next blog, I will talk about the importance of branding, getting to know social media channels, and understanding metrics and how to use them to improve your results.