Based on my experience incorporating social media in my marketing, you are missing out on valuable opportunities if you don't participate.
###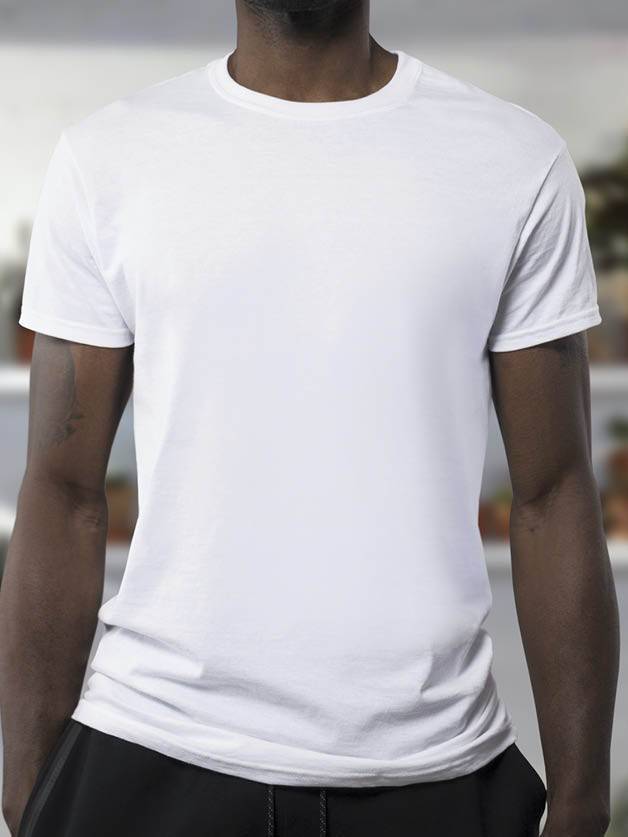 Handling
T-Shirt
Pricing
in
Our
New
Normal
Handling
T-Shirt
Pricing
in
Our
New
Normal
Since no one knows the future, your costs of doing business may decrease, stay the same or rise during and post-COVID-19. In any case, it's important to be prepared to keep your T-shirt business profit margins as intact as possible. Long-time apparel industry veteran Anthony Corsano, COO of Brookfield, CT-based Bolt Printing, weighs in on smart T-shirt pricing strategies.
1. Decide whether you need to raise your prices.
In simplest terms, Corsano says that if there's a price hike on T-shirts, you'll need to increase prices on your end. "However, if there's a temporary increase of any of your costs, printers need to analyze how long it's temporary and if they should adjust their pricing," he advises.
For example, Corsano says, if the cost increase is shorter term and minimal, such as labor costs going up a couple of percentage points. "You'll probably elect not to pass that on to your customer," he explains. "However, if you're looking at a significant increase on your end, are you comfortable taking that hit for the next 12 to 18 months?"

It's important to really look at your pricing and your business profit margin with a strategy in place. If your numbers look misaligned, do a deep dive of your cost inputs. "As a rule of thumb, if shirt prices go up, or any other cost inputs that can't be mitigated, your pricing should also increase incrementally," Corsano says.
2. Determine where you can cut costs.
Corsano explains that analyzing and reducing costs isn't something that should pop up on your business to-do list only during a pandemic. "This is a task that you should do quarterly or twice a year at least," he says.
Since Bolt Printing is a family-owned business, it's been relatively easy for them to cut costs and scale back where needed. "As a result, we haven't changed our T-shirt pricing," Corsano says.
3. Talk to your vendors if you need help.
You can talk to your suppliers about new, short-term terms. Check in with your landlord about rent payments. Review your employee roster and see who should stay full time, who should go part time, and who may need to go on furlough or be laid off.
"At one point, we went from twenty people down to five," Corsano says. "We could only keep 25% of our employees busy." In addition, those employees had been cross-trained on multiple functions of the business, so Bolt could run with a much leaner staff.
4. Meet clients at their budget.
Corsano advises working within clients' T-shirt pricing budgets to give them what they want. "We're finding that our customers who call very respectfully ask, 'How can you help us now?' So we do our best to help them out" he says. "We don't push people to buy what they don't want."
For example, a customer might pick a style and indicate the quantity they want, but then the overall price is too high. "Instead of negotiating pricing, be prepared to offer a better value T-shirt so you can also stay close to your shop's T-shirt pricing," Corsano says. "About one-third of our customers buy our best T-shirt pricing deal."
Conversely, he cautions that some customers might ask for steep discounts, if they perceive your shop is desperate for work or if you don't have a rock-solid T-shirt pricing guide. "We fulfill most of our orders online so we don't usually get those calls," Corsano says. "You just need to keep that in mind, depending on how you run your business or the industries you serve."
And if you do encounter a low-price shopper, "send them to your competitor," Corsano quips.
5. Focus on your T-shirt business profit margin.
"At Bolt, we're all about profit, so we deep dive into our P&L every month," Corsano says. He recommends looking closely at the cost of your goods. "If it generates an acceptable gross margin, you're ok. If not, you've got a problem to address.
Twice per year, the Bolt team also selects five competitors and performs a thorough T-shirt pricing analysis. "We want to stay competitive across the board," Corsano says. "We find that we're ranked high in customer service and quality and very competitively priced."
6. Consider managing your shop's finances through blended margins.
Blended margins is a way for businesses with multiple divisions or product categories to look at their finances not as separate divisions, but as combined costs and profits across the company—in other words, as blended. With that said, analyzing and collecting your finances begins with tracking your sales and transactions as you go along with an ERP system and an accurate CMS (cash management system) paired with current and reliable bookkeeping.
This allows you to look at each of your divisions and see where inefficiencies lie. For these inefficient areas, you can start fixing them and know that they might be areas where you avoid discounts or blending. This method also allows you to choose which orders will be the most or least profitable for your shop.
7. Don't drop your T-shirt pricing on slow-moving styles.
If you have T-shirts that haven't sold—whether they're active, discontinued, promotional or close-out products—there are smart ways to move this leftover product via various pricing strategies, without dropping your prices. These strategies include merchandising or marketing these products in a new way, such as bundling slow-movers with other T-shirt styles or offering incentives to customers if they buy. As a last resort talk to your suppliers to see if you can return or exchange the product.
8. There's more to T-shirt business profit margins.
Your T-shirt pricing includes more than the cost of the shirt and the labor to decorate and ship it. "Your fast turnaround time or free art setup is worth money," he says. "Or if you don't charge for shipping or you offer free local delivery, that's worth something, especially if your competitors charge screen fees and delivery charges."
Corsano says that your T-shirt pricing is also based on the whole experience that a customer has with your company. "Think of it this way: If you got a great price and the product shows up after the event or the quality is horrible, how much did you save?" he says.
"If you're just looking at your T-shirt pricing and your costs now, that's a problem," Corsano says. While a pandemic isn't the best time to start looking at your costs, better late than not at all. "If you can't say what percentage of your costs blanks or labor are, now is a great time to start understanding your T-shirt business profit margin," he says.
Read also: "Veteran Printer Evolves to Survive and Returns to Help Others."