Here are 10 ways to manage COVID-19 employee communication and COVID-19 employee stress, with input from apparel-decorating shop owners.
###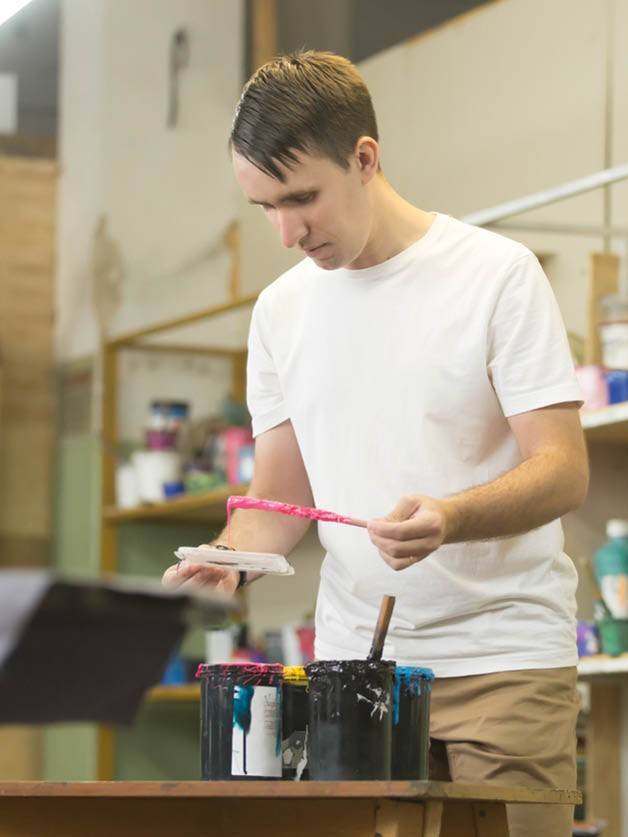 How to Handle Post-COVID-19 Employment Concerns
How to Handle Post-COVID-19 Employment Concerns
It's clear that COVID-19's cloud isn't abating any time soon, but people do need to return to work. Decorators are already contending with post-COVID employment concerns. The key is balancing business needs with human needs, and putting in place COVID-19 employee communication channels to provide information and allay fears.
Dan Strickland, president of Panama City, FL-based Garment Gear Inc., says smaller shops have an advantage. "We're like family," he says. "We know who has elderly parents they assist with, or special needs close relatives who can't get sick. We know these unique situations where our coworkers also are doing their best to earn a living and maintain social distance."
Here are 10 ways to manage COVID-19 employee communication and COVID-19 employee stress, with input from apparel-decorating shop owners.
The CDC website (1) continuously updates its guidelines for how responsible businesses should plan for and respond to COVID-19. For one, you can communicate how serious COVID-19 is and that your shop plans to follow all CDC requirements and recommendations, including social distancing, staggering shifts and working at home when possible. This will help alleviate COVID-19 employee stress.
"We arranged our stations so our operators can social distance," says Marian Hinebauch, owner of Las Vegas-based Logo Droppers. "Some of our employees had concerns even with 6 feet apart, but they're getting used to it."
2. Educate your employees.
Not everyone fully understands how serious COVID-19 is or how it spreads. Explain to your team how they could be spreading the virus and how to prevent it. This is key to post-COVID employment. Prevention includes wearing face covers, washing hands frequently and social distancing.
Tell employees who start feeling sick with a fever, cough or shortness of breath to notify their manager and then stay home. "We have more meetings for discussion and ongoing updates, since things change on a daily basis," Hinebauch says.
3. Put a cleaning routine in place.
Of course, you cleaned your shop before, but now it's time to ramp it up. This will be part of your COVID-19 employee communication plan. Create a new cleaning protocol that includes cleaning and sanitizing work stations, common areas, bathrooms and high-touch areas like customer counters, doorknobs, phones, and computers at regular intervals during your shifts.
4. Set up social distancing practices.
At Garment Gear, production employees are onsite to make screens, mix inks, print, receive and ship. "That happens with employees in closer proximity to each other, with social distancing in place," Strickland says. "We may not be as fast and efficient as before, but we need to be as diligent as possible. Lucky, most of our clients understand there might be a slight delay." Office staff and artists communicate as much as possible through emails or chat apps to limit face-to-face discussions.
"We're very aware of our surroundings," Hinebauch says. "Visitors can only access the front office by appointment and if they're wearing a mask. We don't let outside people in the warehouses at all."
5. Assign a COVID-19 contact.
Whether that's you or another on your management team, you need a point of contact for post-COVID employee engagement. This person will communicate all COVID-19 updates, policies and plans to managers and employees. In addition, managers and staffers should regularly update your COVID-19 contact with their efforts and any COVID-19 employee stress.
"As employers, we have to remember a lot of our staff are scared," Hinebauch says, "so we especially have to be extra positive and reassure them that things will be OK—it really makes a difference when they see it from us."
6. Beef up your sick support policies.
If you can, give employees sick days and flexible sick leave. Encourage employees to stay home if they're ill. Create a culture where employees don't feel they have to come to work "no matter what" because they're afraid of losing their job or facing any type of backlash from their manager or coworkers.
Now's the time to ensure that your leave policies are in line with local, state and federal legislation. And, come up with a plan if several employees do need to take sick days or leave. Make this information readily available via your COVID-19 employee communication plan.
7. Schedule regular team meetings.
As part of your post-COVID employee engagement plans, you need to manage COVID-19 employee stress and human needs. One way to do this is to schedule consistent meetings with all employees, with a virtual component so everyone can join at the same time. This is your chance to share updates and next steps with your staffers.
"Communication is always key," Strickland says. "You can never assume that everyone understands what's happening since there are so many different moving parts. It's so much better to assume that your message isn't clear and concise, and there are always better ways to express directions and address concerns."
8. Schedule one-on-one meetings.
Every single team member should have the opportunity to address concerns in private, whether it's with you or their manager. If you have a lot of employees, make sure that you hold private meetings with your direct reports, as they're doing with their teams. Emphasize these meetings as part of your COVID-19 employee communication plan. "Make addressing employee concerns a priority," Strickland says. "Deal with those concerns immediately."
9. Create socially distant or virtual fun opportunities.
Now, more than ever, people need to feel connected. As part of your post-COVID employee engagement efforts, schedule virtual happy hours or games to spark the spirit of camaraderie.
Hinebauch shares that for her staffers, "the worst thing" is having to wear face covers in the warehouse in the summer heat. "To help, I'm stocking the freezer with lots of popsicles," she says.
10. Make resources available to everyone.
Whether you own a small or large shop, coordinate all your efforts company-wide so all employees can navigate post-COVID employment effectively. If applicable, include various department heads, from human resources, to IT, to finance, to support your efforts.
Look into how you can connect employees to EAP (employee assistance programs) resources and community resources to relieve emotional and financial stressors. And of course, continue to monitor the big picture so you can learn how to map an uncertain future with COVID-19 pandemic.
Strickland points out that when your normal business environment is already built on respect, people are equipped with a positive mindset to work together as a team when difficulties arise. "Of course, you need specific daily post-COVID employment plans to help ease concerns—we're doing much more frequent sanitizing of the common areas, for example," he says. "At the end of all this though, the company still has to stay standing. The employees who are in it for the long haul understand and appreciate the necessary steps to keep moving forward."
Read also: The COVID-19 Business Game Plan Part II.


References:
(1) "Interim Guidance for Businesses and Employers Responding to Coronavirus Disease 2019 (COVID-19), May 2020," CDC