Learn how TX-based Industry Print Shop has become an invaluable resource and a partner for the local arts community and how you too can tap into this market.
###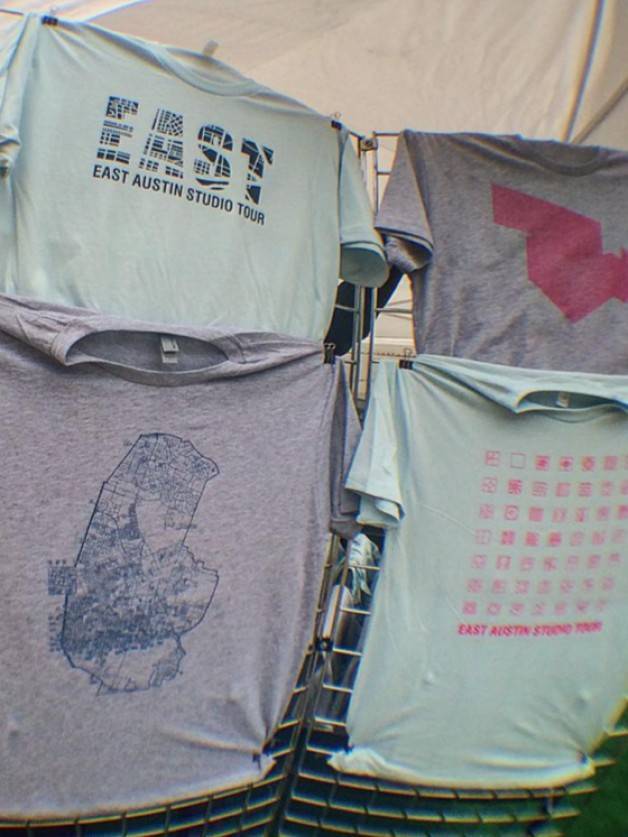 How to Sell T-shirts to Museums and Galleries
BY TONY DIAZ
How to Sell T-shirts to Museums and Galleries
If you're a screen printer and you love art, there's a big market for your services with art museums and galleries, at the national and local levels. Plus, nearly all of these venues sell custom branded merchandise including T-shirts and other printables, there is a reason that visitors 'Exit Through the Gift Shop.'
Through a lot of hard work, our Austin, TX-based Industry Print Shop has become an invaluable resource and a partner to these art institutions. Now, in addition to supplying their T-shirts and merchandise, we're regularly invited to do live print demos and display our work at our clients' open houses or art fair events.
Here are eight ways you can also become the go-to print shop for your local arts community, making museum merchandise a primary revenue stream for your business.
1. Be ready to cater to a higher-level client.
We don't "just take orders" from our museum and art gallery clients. We take what's on their walls and put the images on high-quality T-shirts. Our print consultants take museum buyers through the entire process and offer superior project management and customer service. In addition, since we are artists who also show in galleries, they trust us to understand what market buyers at gift stores and customers want, so we can cater the right merch toward them. We also know museum T-shirts offer that extra value bonus of being an "experiential item"—helping the wearer recall their museum or gallery visit, whether in person or online.
2. Be passionate about making art accessible via museum merchandise.
Art accessibility also happens at all levels, whether it's a national museum featuring historic art pieces, or a local gallery spotlighting a group of local artists' work on T-shirts. We like to suggest limited-edition or numbered printed T-shirts that can sell for $70 to create exclusivity and urgency for buyers. Plus, by doing smaller runs, you can expose more artists and their work to the general public, gaining them publicity and funds.
3. Have your specialty printing ducks in a row.
If you want to target museums and galleries, offer upgraded printing options, such as simulated process or water-based discharge printing. It's also a good idea to create high-quality samples you can show in sales meetings or even send to the buyer to see and touch. When you're reaching out to a new client to pitch museum clothing to merchandise their exhibits, you need to wow them with your work. Remember, screen printing is also an art form.
4. Select the T-shirts people want to wear.
We choose fashion blanks made from 4.5 oz. ringspun cotton that have modern cuts and fitted sleeves. To elevate the garment even more, we recommend doing a custom printed inside size label. That's where you can number limited runs and even add your print shop name to offer even more local flavor. Plus if you're in a destination town like we are, adding "printed in Austin, TX" to the museum T-shirt label adds more appeal for buyers visiting from out of town. People love seeing that garments are locally sourced and printed. When we add our name to the labels, we offer a discount and that goes a long way. Being a shop that prints museum T-shirts also elevates our business, and gives us prestige as the decorator who's working with art museums.
5. Go beyond museum merchandise.
Yes, they need printed art T-shirts for the gift shop, but they also have a tremendous need for additional items like caps, tote bags, mugs, pens, pins and stickers. If you can also offer hard goods promo items, whether you imprint them or source them from a vendor, you'll be a more valuable partner (and a one-stop shop). Additionally, these instituions have a need for custom branded merchandise outside of their gift shop. For example: museum staff shirts or shirts for a special event such as youth art camps.
6. One great print sparks another.
Once you get your first art museum or gallery client, the sky's the limit, since you'll have a foothold in that world and can get referrals. In addition, consider doing a print workshop at an art fair to meet more artists, collectors and people who support the arts. Many times they want to give their business to companies that support the arts, so it makes sense to get as involved as possible in that scene.
7. Keep your finger on the art world pulse.
In other words, be aware of what's going on in your local arts community. For example, if you hear that an Andy Warhol retrospective is coming into town, be the first to pitch limited run commemorative art T-shirts. It's a great pitch because you're giving the museum or gallery an additional way to generate revenue. The more you can present to your clients that you are helping them make money, the more you are viewed as a partner and not just another print vendor.
Many art museums have virtual tours, but are they taking guests into a virtual gift shop at the end? If not, suggest the idea. For smaller or more local art galleries, see if they're doing online shows. You can easily build an e-store for them to go along with the cyber show—all they need to do is promote the link to their limited edition art T-shirts. In addition, you can build online pop-up shops to benefit specific local artists, with monthly limited-run museum merchandise.
When you work with museums and galleries to sell art T-shirts, you're selling a premium experience, premium print and premium product. There's money to be made in this market, along with the extreme satisfaction that you are trusted to replicate works of art to share with the general public, so dive in.