Based on my experience incorporating social media in my marketing, you are missing out on valuable opportunities if you don't participate.
###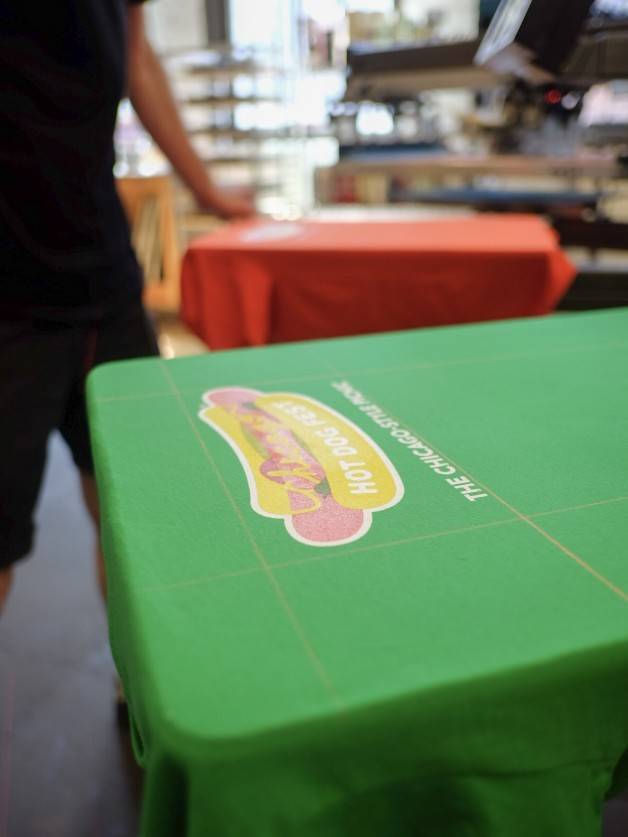 Planning
and
Tracking
your
Production
Process
Planning
and
Tracking
your
Production
Process
Just from looking at a meticulously printed tee, it's hard to imagine the carefully planned scheduling and production that lies behind it. Admittedly, it might not be the most sexy topic in printing. But it can be the divider between mediocrity and excellence. We talk to Adam Smith from Luckyprints, who has mastered the art of production planning. He provides us with some valuable tips on how to streamline and boost production speed, and most importantly, deliver consistent quality — print after print.
How do you plan and track your projects to make sure you deliver on time?
Our workflow includes every little step along the way: From putting orders in and buying blankwear from vendors, to things like how we title specific art files, folders and mockups. The biggest tool that has helped us do this is a simple coding system. Every order will have an invoice or order number. We take the last two or three digits from that number to track the order at every step. When we're setting up an artwork file for the client, we'll use the same number to title and save the artwork file. Even the code order in our scheduling system ends with the same last three digits.
What are some tools you use to track your production?
We use a Printavo, which is a really good system to keep a broad overview of your production schedule. It manages everything from invoicing to approvals and mockups. It also allows customers to pay and serves as a lightweight CMS. For detailed project management we use Asana, which allows us to break down every single task within the production calendar. Printavo allows you to schedule the entire invoice on a certain day and then we use Asana to schedule the subtasks - like where on the shirt you're printing or if you have to fold or bag the product. We also use it to track where the order is in terms of pre-press; it basically allows everyone to communicate without having to walk across the shop.
How do you deal with emergencies or blockages that delay the printing job?
We'll contact the customer and explain the issue we ran into, our solution in solving it, and what they can expect from us. We schedule our production two days in advance, so that gives us ample time to resolve most issues before the customer needs to be made aware. Working ahead of schedule also has the plus side of being done earlier most of the time, allowing us to reach out to our customers to let them know their project is done early!
How do you streamline communication with your team to make sure everyone is on track?
Every morning we have a production meeting where we run through Asana to see exactly what's going on that day, and the days after. We try to communicate what everyone's tasks are for the day and we try to get as many questions out of the way. If things do come up during the day, there's a great tool we use called Slack, which is an internal chat that offers a ton of benefits. The immediate plus that we saw is that someone can ask a question without having to interrupt one of their colleagues, which eliminates the risk of their colleague overlooking anything they're working on. It also serves as a reminder as it's documented and not just a verbal communication.
Do you have any valuable documentation and tracking tips that could help other screen printers?
Capture as much information as you can. For printers, one of the biggest things that you have to keep in mind when you're printing is that your customers expect your products to be the same - every time they order from you. Tiny little details in your printing environment can change the final product. When you run a job early in the morning before your pallets are warmed up, your ink will look more glossy than printing at the end of the day where you might get a more matte look. Also, part of our order approval process, is documenting the exact pantones - whether the customer provided them or not. That way, if the customer comes back and wants to re-run the exact same job, we can see the exact pantones that were used.
For the pre-press side, we record the different mesh counts for each screen and color. Again, this helps in consistency, in terms of how much ink gets down and how detailed the artwork is. We also track settings on the press - like the sequence and colors in each print. Lastly, we track the amount of print strokes we run on each print head, and the position and timing of our flashing. All of those things will impact the consistency of the job and allows for faster set-up, faster production time, and easier re-ordering for your client.