Know who you are and how to best communicate that to potential clientele. Learn about the importance of branding in social media marketing.
###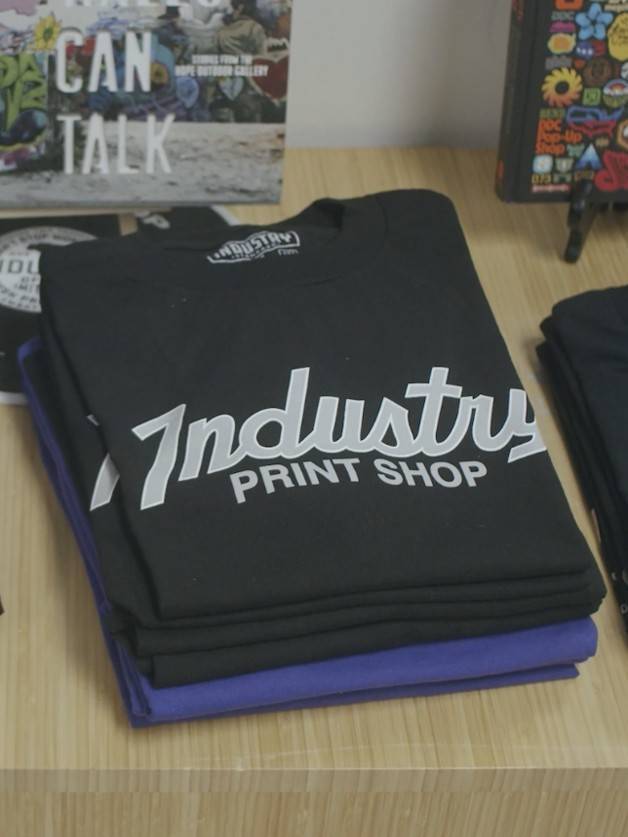 Recognizing The Importance of Branding
BY TONY DIAZ
One thing we take seriously at Industry Print Shop is the importance of branding. Not only our own brand, but helping our clients grow their brand through the printed apparel and products we provide.
We want our work to make a memorable impression that allows consumers to know what to expect from a company. We also believe that a brand should consistently reflect a company's true identity and come from a real story.
In our case, we want to give people a reason to work with us. Our story is that I started this company from the ground up out of a love and passion for art and music, and I've been doing it for more than 20 years. In addition, I share my knowledge and expertise with others through speaking and networking at corporate gatherings and conferences.
When potential clients learn this they might think "Oh, maybe this is the shop to go to."
We actively seek out like-minded companies who want to work with the best. There are those who just want to get a job done – get in and out. They don't care how it's done or who does it, and that's fine. We would never want to turn work away, but what we are really looking for is those who understand who we are and want to work for us for that reason.
When anyone looks at our social media and website, we want it to be obvious that we understand the importance of branding, and that this is a niche we serve.
One way we show that is through our sales team. We don't consider them salespeople, but consultants. When meeting with a new client, we look at a company and ask: Who are you? What are you doing? What are you putting out there? What has been working and what hasn't?
Once they learn all they can about a business, our staff offers suggestions and advice. We're not going to simply point them to a wholesaler apparel website and say "Hey, pick out a shirt and let us know what you want."
We are going to choose options based on our knowledge and expertise that we feel best matches their image and needs. We'll present those saying, "Here are options we think are going to be the best fit."
When you cater to customers in that way and give them answers to questions they don't even know to ask, you're solidifying the fact you're an expert. We have found that carries a lot of weight. And we use our social media platforms like Instagram, Facebook and LinkedIn to show off our expertise.
Get To Know Social Media Channels
Once you have defined your brand, the next step is learning about the individual characteristics and personalities of the different social media channels and tailoring your brand messaging appropriately to each one.
This requires doing research on each channel, observing what content works best and figuring out what stories you want to tell. And that's mostly spending time on the platform and seeing what people are engaging in. We had been having in-depth discussions about this before the pandemic crashed us.
For Facebook, we were going to show the people who were making things happen. We wanted our audience to get to know our staff, and were planning on employee spotlights and things like that.
On Twitter, our focus was going to be helping to promote events that we were involved with whether directly or indirectly by retweeting. For example, maybe we printed shirts for a 5K race so we would retweet posts about that. So our Twitter would be more of a flier board showing different things our clients were involved with.
After posting videos to Instagram, we made some interesting observations. One was that while the post would not get a lot of "hearts," the videos were getting a lot of views. At first we thought, "Oh, no one likes our videos, only 100 people liked it."
Then we noticed that 2,500 people watched them. And we realized we care more about the fact that lots of people are watching vs. hitting that heart button.
This is an example of where it pays to look at the metrics. This data will tell you what is working. And you will find with experience what works on Instagram might not work on Facebook. And what worked great for one print shop, may not work for another. So it's a matter of experimenting and trying different things and evaluating each post to see how it performs.
I learn things about the different channels even from my own behavior. When I log onto Instagram, I want to be distracted. I'm not interested in reading a bunch of copy. But if I'm on Facebook, I don't mind reading a story. So it's identifying what catches your attention and honing in on that.
Understanding The Metrics
Metrics allow you to measure and enhance your social media strategies. It's impressive what you can find out. One thing we use them for is figuring out what times and days we should post.
You also learn what resonates with people and what does not. I found it interesting that when we posted about Black Lives Matter and Stop Asian Hate, our number of followers declined each time.
I was okay with that, because if people do not align with our company's views, we don't want them as followers. I don't hate them, I'm not mad at them, but I'm not sad we lost them.
We screen printed and posted to IG, 'Stop Asian Hate' posters for a rally that happened here in Austin. We had solid engagement with 470 likes, and we lost 25 followers. I was happy that we connected with that 470.
Other things metrics will tell you are what percentages of viewers were male or female and where they are in the world. We might find that 50% of people who liked a post were from Austin, but 10% were from New York. You need to poke around and see what the data says. It can open up a lot of doors.
In my next blog, I will share how to switch up the same content to match the channel, the importance of optimizing your photos, tips for focusing on your strengths, and more great insights on how to use social media to promote your brand.