Here are eight of Jenifer Badger's suggestions - based on her own experience scaling a shop—for purchasing new or used equipment.
###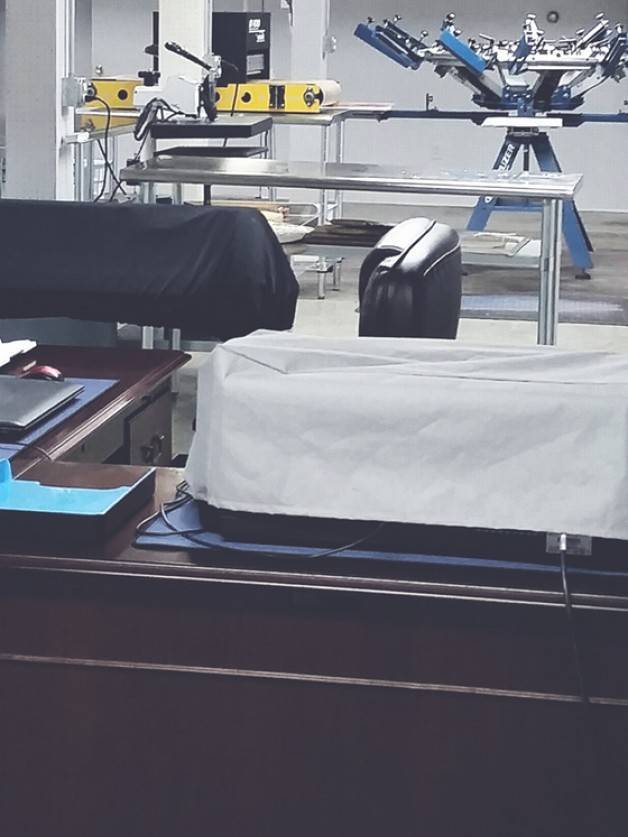 Scale
Your
Shop
with
the
Right
Equipment
Scale
Your
Shop
with
the
Right
Equipment
When you want to scale from a smaller screen-printing shop to a mid-level operation, it's a cost investment that includes—but goes way beyond—the right decorating equipment.
"You might be looking at a second manual press or even adding your first automatic," says Jen Badger, owner of Jefferson, IA-based ShineOn Designs. "When you're making the leap, think about this: OK, you can afford the press, but can you handle all the other increased costs? With that purchase, you might be transitioning to a larger space with higher utility costs and additional staff. "
Badger grew ShineOn Design from a small, part-time screen-printing company in her home's basement to a profitable commercial location in Jefferson's Main Street district. Here are eight of Badger's suggestions—based on her own experience scaling a shop—for purchasing new or used equipment.
1. Assess your shop's production needs.
Badger says a good starting point is to look at what services you're offering, along with your total volume output. "After that, think about what you're unable to give customers," says Badger, who started out with a used manual screen-printing press and a new small dryer.
As her order volume increased, she quickly realized that the dryer wasn't big enough to keep up at the speed she needed. "That's when I looked at what was holding me back from delivering the order volume at the lead times my customers required. I asked myself: What part of the production is slowing me down and where do I need additional equipment?"
2. Assess your shop's goals.
If you're a home-based decorator and don't plan to move to a larger location, Badger says, consider your space and how you can use it most efficiently if you want to add equipment to increase your production. "What's the footprint of that large capacity dryer you're eyeing?" she says. "That would only make sense if you want to increase your production now and then move into a commercial location. If you can invest in the equipment ahead of time, you need to lay everything out financially."
As a shop owner who made the leap from her basement to a retail location, Badger understands that when you're contemplating a move, you may not have all your cost ducks in a row. "You should have some idea about the size of the location you want, as well as if you're going to do this full time and if you'll hire staff," she says.
3. Consider other related costs.
For example, because Badger's shop sits in a 120-year-old building, she needed electrical work to support her new dryer. "I added $1,000 to the cost of the dryer purchase," she says. "Will you need to hire extra staffers or pay for additional work hours? Will your utility costs go up? There are upfront costs and longer-term costs outside of the actual equipment price tag."
4. Consider whether you can scale your sales and marketing efforts.
"Can you increase your sales enough to make that payment?" she says. When you add new equipment, be ready to increase your sales and marketing efforts, and up your average order size. "If you're literally turning away orders, you're in a good spot," she says. "The reality for most shops is that they have to continually work to get new customers and bring back repeats. Another consideration is if you'll need to hire a salesperson or an additional operator."
Unfortunately, many shop owners don't know how much it costs them in terms of labor hours, staff pay and time to produce a garment. That's why it makes sense to figure out how many garments you need to print in an hour, day, week or month to start building ROI in your new machine. "When we went from a smaller commercial dryer on the market to more of a mid-level, our output for shirts increased," Badger says.
For ShineOn, the time wasted with the old dryer was the number one reason Badger invested in the larger dryer. "One of the first things people ask is our turnaround time," she says. "If it's a week longer than another shop's, we're going to lose the business even if our price or customer service is better."
Shortening her shop's average turnaround time was a game changer. "With the new dryer, we could take on more orders, immediately, increasing our sales," Badger says.
6. Do your homework on vendors and equipment.
Do a deeper dive into the vendors and types of equipment you want. It's most ideal if you can attend an industry trade show to meet one-on-one with vendors and see machines in action, along with sample decorated garments. If not, watch online videos and reviews about the machines you're eyeing.
When you chat with vendor reps, ask specific questions so you can compare providers: What kind of warranty do you offer? Will you come to my shop and install the machine? Will you train me how to use it? What kind of financing options do you offer? Do you offer both new and used equipment options?
7. Get a local or regional tech lined up.
"Downtime can be crazy and it's very costly to have multiple days of lost production because you're waiting on service," says Badger, who learned that the hard way with her embroidery machine. Even though she purchased a five-year warranty on parts and labor, she had to transport the bulky machine herself to have it serviced, since there were no techs in her area.
"If you're a smaller shop, you're probably not going to invest in a backup embroidery machine," Badger says. "That's why you need to look into how long it'll take a tech to get to you when you buy equipment." In addition, find someone who can come out regularly to inspect, maintain and clean your machines.
8. Don't forget your tax breaks.
In 2019 Badger paid off all of her equipment, and didn't invest in new machines. "Tax-wise, it hurt me, since I had nothing to depreciate," she says. "I missed out on tax deductions, and instead owed money. Consider: Is it better to invest in a new piece of equipment to depreciate over two years, or to take the expense to help offset your income taxes?"
Consult with your accountant to see if you'll do better on your taxes if you invest in new equipment. For example, if you buy your equipment at the end of the year, can you take those tax deductions right away? "Typically your production is higher at the end of the year, so that's a good time to buy when the funding is there," Badger says.
Every screen-printing shop is different, so there's no one-size-fits-all advice. For Badger, a multi-faceted approach worked. Investing in new equipment was only part of the equation that put her on the path to increased sales. She also diversified her business to offer embroidery, printed decals and promo products. With her small town location, she's satisfied she can get to full capacity in her current space.
Envision where you want your business to go. Then, take all considerations into account including costs, your location and your space footprint. A good growth strategy: Work backward from where you are to see what you should invest in next to scale. Then, those machines you're eyeing will make total sense against your bottom line.