This is the third in a series about getting started creating an online DIY design website and fulfillment using digital direct-to-garment printing. Read more.
###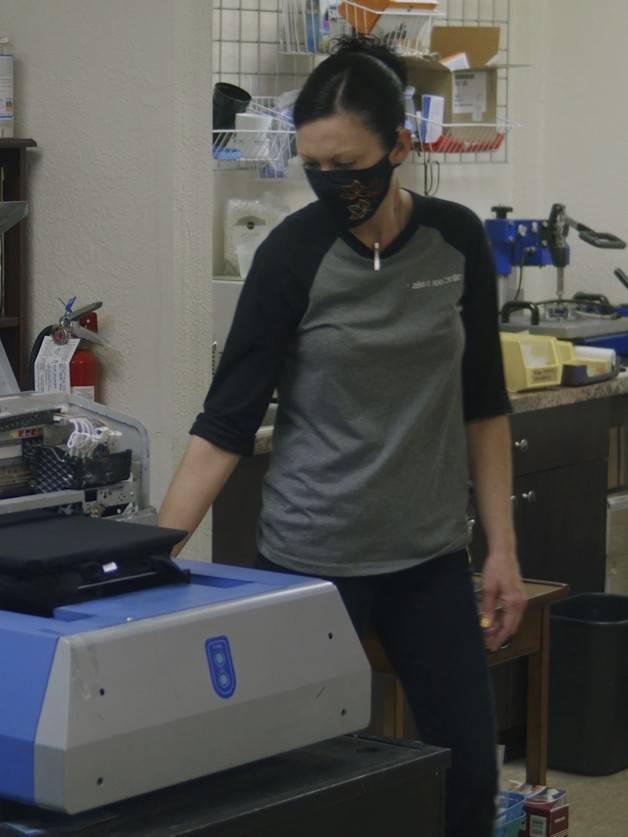 Tips and Tricks for Successfully Printing DTG
BY MERYL KATLIN
I have been printing digital direct-to-garment since 2011, and I've had a design-it-yourself website since 2012. I've learned a lot over the years about what to do and how to deal with all kinds of challenges.
DTG is ideal if you want to cater to small orders, walk-in traffic, and a print-on-demand website. These are the three niches I primarily uses my printers for.
For anyone wanting to get started in DTG, I recommend having a few things in place before purchasing your first machine. First and foremost, give yourself time to learn it and ideally have someone dedicated to operating the machine.
At my shop, I have learned to use it myself, but I also have a production artist who operates our machines. She has a lot of patience and is very methodical and has learned how to deal with any issues that come up. This is the kind of person you need.
Doing small runs is labor intensive, and you need someone who can come up with a repeatable, consistent system for printing and who pays a lot of attention to detail.
You also have to be willing to put in time caring for and maintaining the machines.
First thing in the morning when I come in, I'm the one who cleans up, preps and gets the machines running. I prime the ink lines, clean the print head, clean off the capping unit, get the ink flowing, and do a couple of head cleanings. It takes 10 to 15 minutes.
I do the same thing at shutdown. This takes a little bit longer, because I want to make sure that everything is clean. About every six months or so I'll empty all the bottles, and I'll do a flush on the machines to make sure that everything is good and clean.
What shirts you print on matters. You will find differences from brand to brand even if they are made of the same fabric. We like to stick to apparel brands and styles we are familiar with. Garments we have printed on and know how they will perform.
I don't necessarily recommend this, but we allow clients to supply their own shirts. I do this because some clients are particular about the shirt they want. They want to try it on and make sure it fits. Some like a style with a little bit more room.
I have customers who go to Marshall's and pay $15 for a shirt and think they've gotten a great deal. What they don't realize is I can buy a shirt for $7 and charge them $15.
When clients want to supply their own shirt, I warn them that if it gets messed up, we cannot replace it with the exact same shirt. That doesn't happen a lot, but it does happen.
Another area you want to educate your customers about is color. Explain that the color they see on their phone is not going to be an exact match once it comes out of the printer. Of course, we can bump up colors and make adjustments to some degree, but I don't go to that amount of effort for a single shirt.
You're also going to run into people who bring artwork to you in all kinds of formats. If a client gives me a low resolution file and insists, I will print it regardless of how badly I know it's going to turn out. Sometimes, we have people who bring in a screen printed shirt and want us to reproduce that.
Recently, we had a client bring in a process-color screen printed T-shirt. It had dots in it, and it wasn't even a good screen print. But it did have a nice, bright, athletic gold color. We had to recreate the artwork, and it actually came out great, but we were not able to get the gold as vibrant as it was on the screen printed shirt.
Fortunately, they loved it and ordered seven shirts. They wanted it on a blend, and color doesn't pop as well on blends as 100% cotton. Some people are understanding and nice about that and others are not, so be sure you educate them so that their expectations are in line with what they will get.
Another challenge you are likely to encounter is inconsistency with color. The first print looks great. Then, the second print looks slightly different. It might be that the cyan or magenta is off. Flesh tones also can be challenging as well as grays that look too purple. Fortunately, for us, our production artist has been printing long enough to recognize the issues and knows how to adjust to correct them.
Other things that might come up are you'll get a smudge on a print. Once in a while, you'll print several shirts and suddenly one comes out darker.
Banding can happen and that means not enough ink is coming out. To fix that, you can change your dot size. There are a lot of fixes in the machine's software that people don't know about.
I have a graphic design and print background. I used to work at Business Cards Tomorrow. I worked in the art department doing color separations. I also worked for a color separator in Miami doing work for magazines. So I have learned a lot about colors.
Until you really learn the machine and know what you are doing, it's possible you are going to have problems every day. Our production artist is a perfectionist, and I have to remind her that our goal is to meet a certain level of acceptability. Not every shirt will be identical all the time. That's one of the factors that make DTG unique.
Pricing DTG printed shirts is going to be different than pricing any other type of decorated apparel. While the cost of screen printing and embroidery goes down the more shirts you do, this is not the case with DTG.
Typically, I will charge $30 for a single shirt and that's profitable. My minimum to screen print is 24 pieces. So you'd think that any order under 24 pieces would automatically be DTG. But there are other factors involved.
For example, if the shirts are going to be used for construction or HVAC or landscapers, most of the time, I will screen print those jobs even if they don't need 24 pieces. Those shirts get really dirty and are washed after one wear. Screen printing holds up better to that kind of constant laundering.
These are just a few of the types of things you should be aware of when getting started in DTG. Be patient and give yourself plenty of time to learn all the ins and outs of the machine before you start taking orders. Over time, you'll continue to improve until you master the process, much the same as with any other decorating processes you may already do.