Learn how two small businesses are pivoting in response to the pandemic: Big Community Inspiration in a Small Mask!
###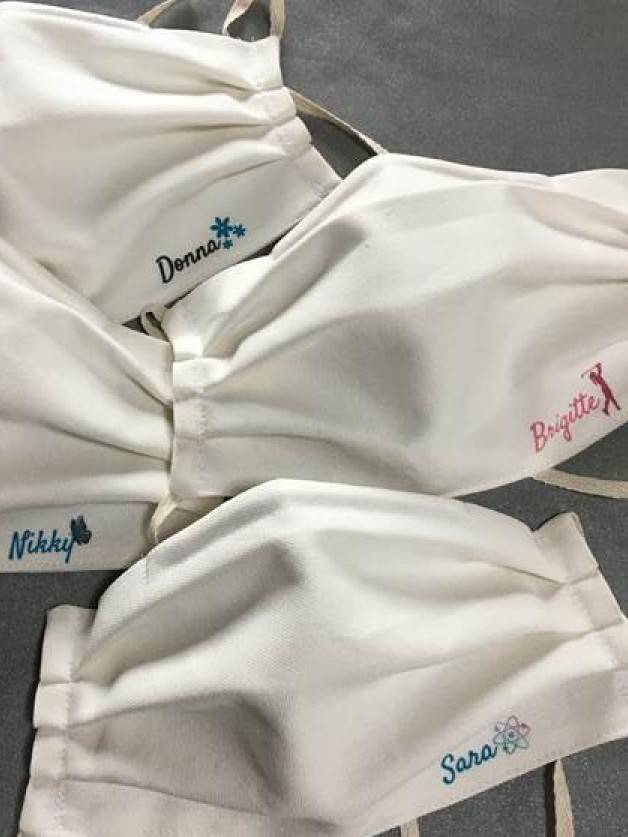 Joining the Fight: Making Masks.
Joining the Fight: Making Masks.
As the coronavirus continues to spread, a far-flung spirit of community driven by a desire to create a positive impact is also surging. Spanning the U.S.—from the Silver State to the Empire State—people are coming together in countless ways. It's inspiring companies of all sizes to bravely pivot and retool the way they do business today, decisively impacting the way they do business tomorrow.
As soon as the Nevada governor formally ordered the closure of non-essential businesses on March 20, the President of Logo Droppers Inc., Marian Hinebauch, along with her brother and business partner, launched a Nevadans for Small Businesses Facebook page. With one post, they shifted their screen printing and embroidery facility to producing and donating masks.
Hinebauch stresses the word positive in all caps, "I'm not one to sit around—if there was anything Logo Droppers could do to help out the community—we were going to do it. We wanted to do something POSITIVE." Echoing the same fervor in upstate New York, Stacy Gardner, founder of Pillow For Keeps, knew she needed to do something as soon as she saw a local news article about a doctor who was making masks because he saw a future shortage. Gardner immediately started to research different type of masks. "I talked with people in the medical field who shared their first-hand experience about what worked and what didn't." After hours of sewing, more sewing, wearing and more wearing, Gardner's original efforts evolved from her first patterns and construction techniques to her final mask design.
Transforming the sewing production studio of her small business into a mask-making space was seamless. "I can sew approximately 20 a day. I've given masks to health care workers, cancer patients, delivery people, funeral home employees, restaurant workers, neighbors, family, friends, friends-of-friends, or anyone that needs them." At the Logo Dropper's facility, Hinebauch's team of sewers, who typically create custom labeling on clothing, shifted to sewing hundreds of masks for clinics, grocery stores, service employees in the local area and for shipping across the U.S.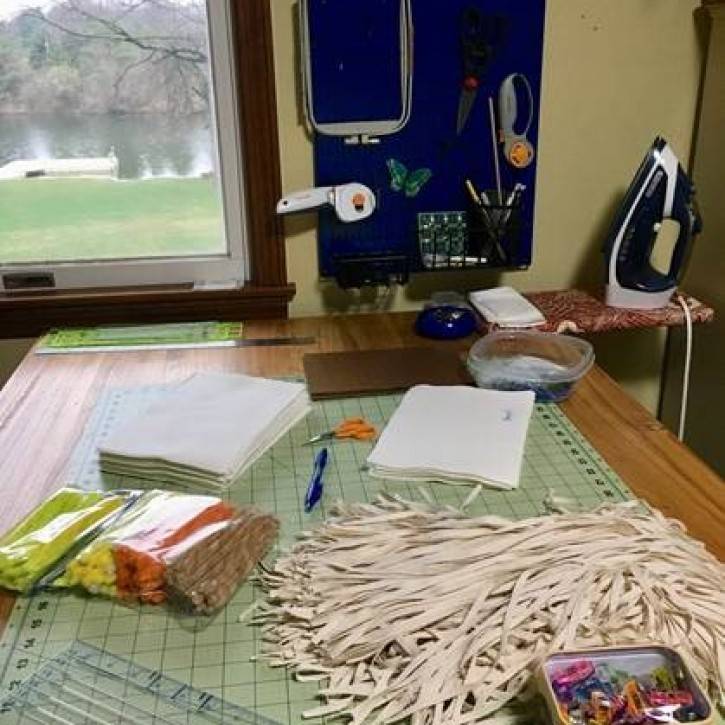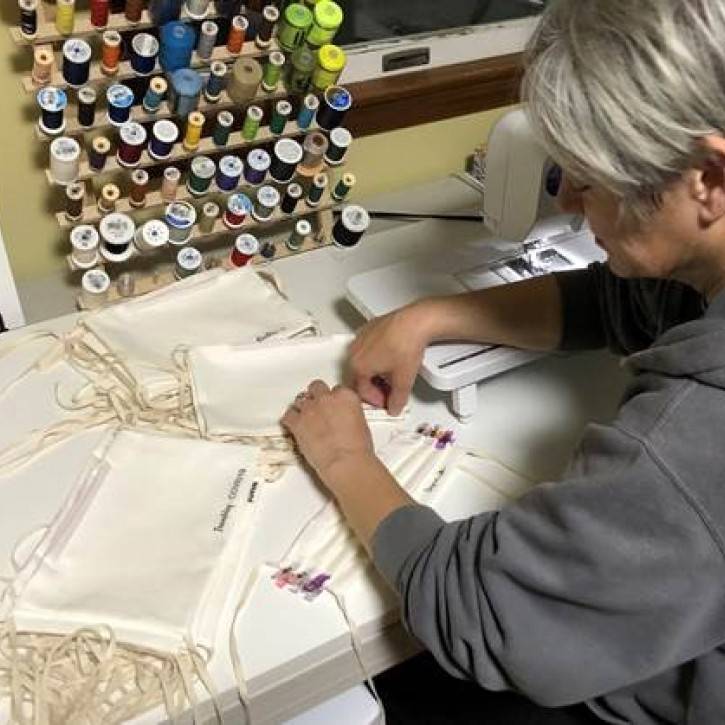 Both business owners have seen first-hand how a simple creative pivot within their businesses has positively impacted both their immediate and far-reaching communities. Gardner shares via email, "Everyone is helping, and with whatever supplies they have. Friends. Neighbors. Even my mail carrier—who picks up packages every day from a bin by my mailbox. There's a woman down the street who cuts tie straps at her house. Another neighbor preps the wire inserts and my woodworker friend designed wooden cutting templates and built a turn table to speed the cutting process." In Las Vegas, Hinebauch's customers pitch in too, dropping off candy, snacks, and fresh-brewed coffee to keep the sewing team going. Gardner says, "I haven't slept much, but there are many, many people that aren't sleeping much. To me, it is easy to stay at home and make masks—but it's not so easy to be in the "line of fire" in the way that doctors, nurses, delivery people, truck drivers, and grocery store employees all are—I will continue to donate masks to any essential workers in need."
Gardner acknowledges that filling that need shifted the way she approached her business. "In order to continue purchasing supplies so I could keep donating, I started offering masks to the general public personalized with people's names and a small image." Responding thoughtfully to the challenges of how the pandemic is affecting our community today, can create a potential business for an uncertain future. "I feel there is going to be a long-term demand on masks. When we are all allowed to go back to whatever the new 'normal' will be, I think that at least for the next year, people will want masks" says Gardner.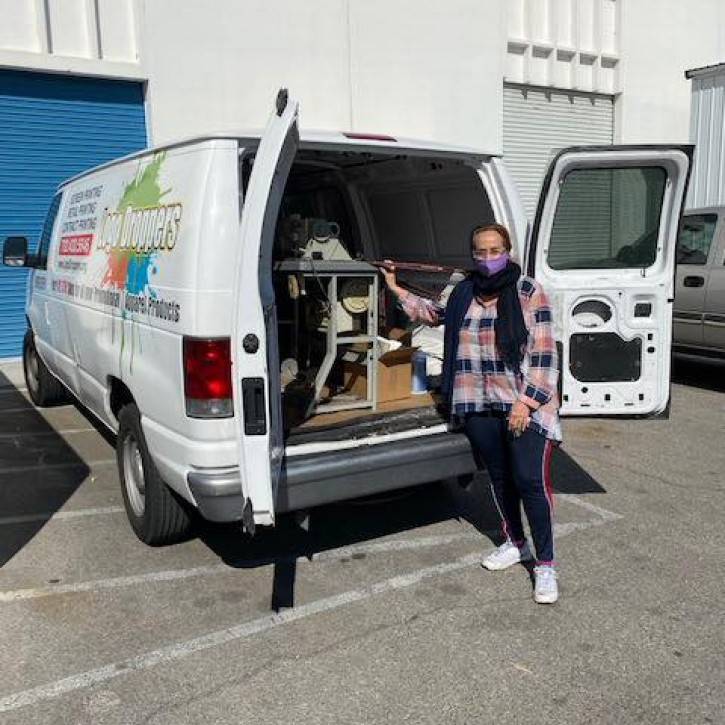 Together, the experiences of Hinebauch and Gardner reveals the range of ways making a small mask can make a big difference through expanding the spirit of community. "I think it starts in your own circle of friends, your family, and your community. Check in on neighbors, if they need something and you can help—do it. Don't leave it for someone else to do. If there is a void, do what you can to fill it with whatever resources you have" says Gardner. Hinebauch acknowledges that pivoting their business to make the mask program happen has generated bigger awareness and richer appreciation on all sides of the business. "It has truly been AMAZING," shares Hinebauch, "the joyful tears and the smiles are the best gifts of all."
#Together #Unite