Shared purpose. Powerful experiences. Invaluable learnings. Here are 7 inspiring reasons to join the board.
###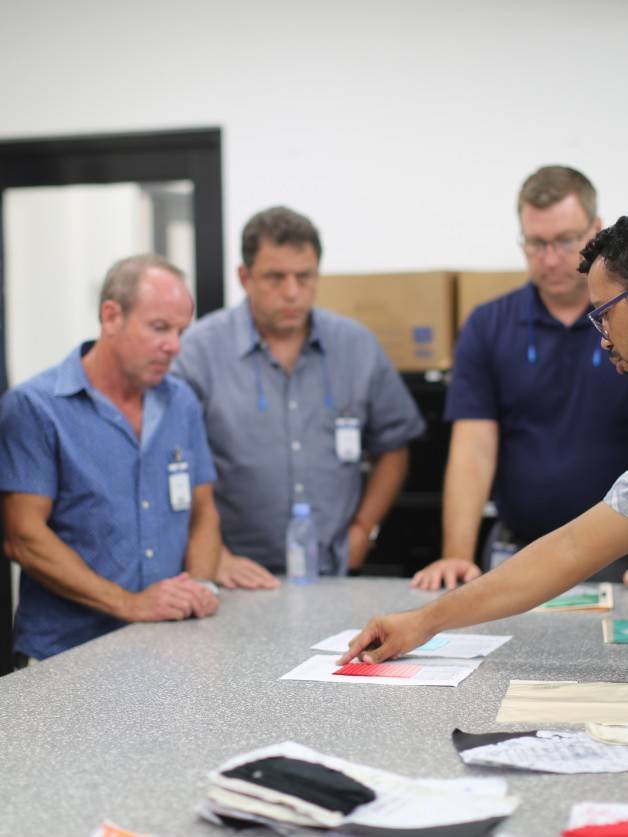 7
Inspiring
Reasons
to
Join
the
Board
of
Decorator
7
Inspiring
Reasons
to
Join
the
Board
of
Decorator
Shared purpose. Powerful experiences. Invaluable learnings. Joining the Board of Decorators is a dynamic opportunity to bring your years of entrepreneurial print expertise to a new kind of thought-provoking and inspiring environment—the boardroom. "From the cotton boll, to the tee, to the print. It's AMAZING. (that's an understatement)" says Zachary Traxler, founder and CEO of Traxler Printing.
1. Develop new learnings:
Serving on the board allows members to share their expertise and learn from each other at the same time. "I was hoping to learn a few new things, but never dreamed I would walk away with so much knowledge," says Jen Badger, owner of ShineOn Designs. Whether they are exchanging ideas about sustainable manufacturing and CSR practices during the board trip to the Gildan facilities in Honduras, members discuss current and future business models and best practices for solving universal challenges that affect all printwear shops—big or small. Mitch Heiman, President of Perrin Sportwear, agrees, "Having the opportunity to share and learn about unique business models in our industry through other board members—as well as learning more about garment production on a larger scale than I had been exposed to in the past was valuable. It was also insightful to hear about the role technology plays today and will in the future."
2. Build dynamic professional connections:
The printwear industry is full of decorators, artists, and entrepreneurs. "If you are passionate about this industry and want to continue to grow and develop your career—the knowledge you'll gain from working closely with your peers is a huge asset," says Dan Strickland, President of Garment Gear. Developing important relationships through working on the board is key to expanding professional networks that help build both individual careers and companies. Badger shares how important the board has become, "having a sounding board in colleagues across the country has been an asset."
3. Develop invaluable insights through fresh perspectives:
Being on the board creates an open space for diverse and equitable conversations that includes all points-of-view. "Being in the room with other passionate, like-minded creatives can bring new perspectives to current and future business models," says DJ Kinslow, President of Constantly Create Shop. A board can also help push the industry forward by ensuring that indispensable insights are shared during robust discussions about industry problem-solving. "It felt valuable to be part of a diverse group that clearly had a voice representing Gildan's customer base," says Scott Valancy, partner and COO at TSC Miami.
4. Expand your experience and grow your own business
Being part of the larger decorator industry conversation while serving on the board helps create pathways to move dynamic ideas from the boardroom back to your own business. "Learning more about the 2020 and 2021 lines got me thinking about how I can incorporate many of those items into programs for customers," says Emmy Handen, Vice-President of Bravo Screen Printing. Inspiration and motivation gained through board experiences can advance all levels of business development. Traxler declares, "After the Honduras trip, it triggered me to essentially gut my company and restructure for future growth. Looking at different CSR changes, KPIs, everything. It's changed us immensely."
5. Inspire industry leadership:
Board leadership offers an opportunity to create positive change in the industry as a whole. "I always return home with renewed sense of where we are and what we need to accomplish," says Anthony Corsano, President at Bolt Printing and the current Chairman of the Board of Decorators. Valancy agrees, "The opportunity to receive insights about Gildan's global operations and most importantly, provide feedback that will assist with Gildan's future decisions about their products, manufacturing, and social compliance—is rewarding."
"Everyone's passion is contagious," shares DJ Kinslow, "serving on the board has motivated me to pay it forward." Lending individual expertise to help focus board initiatives can be rewarding and invigorating on different levels. Muhammad agrees, "it gives me an opportunity to give back with all the helpful insight that I've learned over the years."
7. Create an expanded impact in the industry:
Sitting on the Board of Decorators is not only about contributing to a shared purpose which can be inspirational, but your contributions also have tangible benefits that can move the industry forward and resonate throughout different size operations. Heiman declares, "Working with board members helps you realize that even though we are all small individually—collectively, we can shape and impact our industry for the better."
Big picture motivation. Revitalized perspectives. Dynamic learning. "Don't pass up the opportunity to be a part of the change you want to see," continues Heiman. Badger agrees enthusiastically, "Go for it!" Joining the Board of Decorators is an opportunity to widen your professional world by taking a seat at the table and lending your voice to the printwear industry's bigger conversation. "Serving on the board—being able to share valuable information that benefits all three stakeholders—Gildan, the Board Members, and the embellishment community is a very cool accomplishment and one not to be taken for granted," says Corsano. DJ Kinslow agrees, "It's a great opportunity to help shift what we all love to be into something greater—together."