Building strong communities doesn't happen overnight, it takes time, and it can start with the basics. Always looking for simple ways to create change, Geronimo knows that the way to move forward is to give back. Read more
###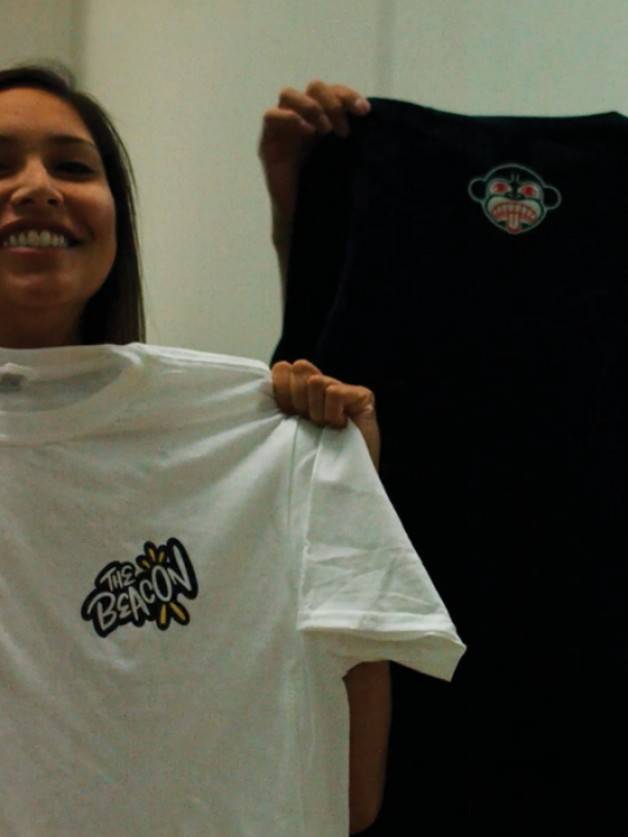 Midnight Supply Company: Proud to Support Community
BY CHRISTINE GERONIMO
As a Board of Decorators member and owner of the Seattle Print shop, Midnight Supply Company, Christine Geronimo believes in leading by example. When asked how many graphic T-shirts she owns, she laughs, "Oh I can't help it — hundreds. I just moved and I thought, 'you have to get rid of all of those T-shirts,' but I'm gonna keep my entire collection." Geronimo recognizes the power that lives in a blank shirt ready for ink. "I really like this message we just printed. It said, 'Be Kind' — it's about how you never know what someone is going through. It's important to keep that in mind" she says.
Every T-shirt can build connections between people at different points along its lifecycle. One bought at a merch table is a souvenir of a local event. A meet up in the neighborhood while wearing the same shirt can bring people together through shared appreciation for the shirt's picture or message. "Having a real conversation and learning to be nice to people," says Geronimo. "It's just a very basic thing." Building strong communities doesn't happen overnight, it takes time, and it can start with the basics. Always looking for simple ways to create change, Geronimo knows that the way to move forward is to give back.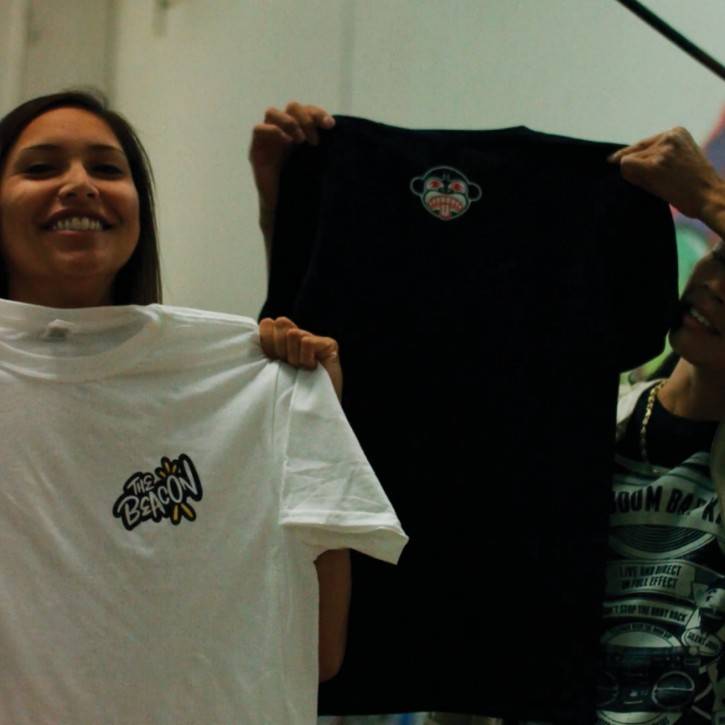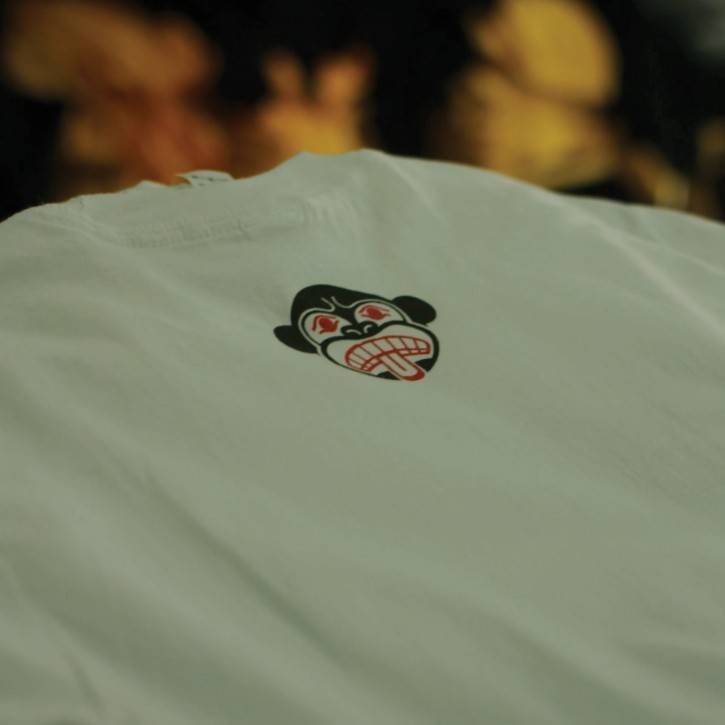 The Board of Decorators is also committed to giving back beyond the virtual boardroom. Each of the nine members choose a local organization they want to support through BOD for Good. When asked how the program makes her feel, Geronimo folds her hands and tilts back in her chair. After a few moments, she leans in to answer, "I feel proud to support community. It's literally what I've always wanted to do. It's something I'm going to continue to do."
As the owner of Midnight Supply Company, headquartered near the Duwamish Waterway in the South Park of Seattle, Geronimo has built a print business that uses its creative power to help others. Whether shipping a pallet of shirts and emergency supplies after Typhoon Yutu devastated Saipan, creating care packages for healthcare workers, or printing and donating shirts 1,000 bursting with color and breakdancing characters for a Massive Monkees fundraising event, Geronimo acknowledges how leading by example can inspire the next generation. "I just think that at a young age you're influenced by so many things that are around you. It's important for me to try and inspire them," says Geronimo, "The youth now are the ones that are making a lot of the big changes and showing up in numbers." The members on the Board of Decorators are committed to helping create that sea change — championing each person's ability to contribute regardless of age. When asked where she wanted to contribute her 1,000 shirts, Geronimo says, "I automatically knew that I wanted an organization that represented me and represented the community I came up in. I wanted to focus on youth programs, specifically ones that supported Asian and Filipino youth," she says, "Massive Monkees was the first to come to mind."
Massive Monkees. Hip Hop crew. World Champions. Teachers. Mentors. Role models.
Their deep neighborhood roots, cultivated since the late '90's, stretch across South Seattle. From jump, the Massive Monkees crew have "created a unique mixture of energy, creativity, and charisma within the crew — they continuously share their love for hip-hop and breakin' to celebrate with their community." Their essential, give-back philosophy — "Each one, teach one," overlaps with a Midnight Supply Company belief in supporting the next generation. The Massive Monkees former dance studio, The Beacon, was a way of engaging with the whole neighborhood. Everyone showed up to learn. The Beacon lease, lost to the pandemic, inspired a fundraiser to boost a way forward for a more permanent studio home. "So much is uncertain right now," says Geronimo, "The goal is to sell out of these T-shirts to raise as many funds as possible for their new space."
Since their first moves, breaking crew members of the Massive Monkees have spun out from Seattle — showcasing their skills across global stages, then sharing those skills on a grassroots level. Massive Monkees are committed to making a difference in massive ways. Crew members teach it forward — volunteering their talents for the Break Challenge Championships at 20 Washington schools, in studio workshops, and at cultural centers — all while inspiring students to become teachers themselves. Crew members have gone on to "Reimagine how to build the next generation of leaders through art and dance" at the non-profit organization, Extraordinary Futures.
Their giving back doesn't stop there. Whether practicing for big battles to designing sound waves that represent unifying energies of movement and vibration on the 1,000 T-shirts, Massive Monkees considers how everything is essential to building a stronger community. "In Hip Hop, we believe that dance, music, and art have the power to bring everyone together. We learn, share, and vibe with each other." Their 22nd Anniversary — Massive Monkees Day 2021, is four-day event bracketed by prelims, main event performances, free workshops, and a Labor Day community BBQ.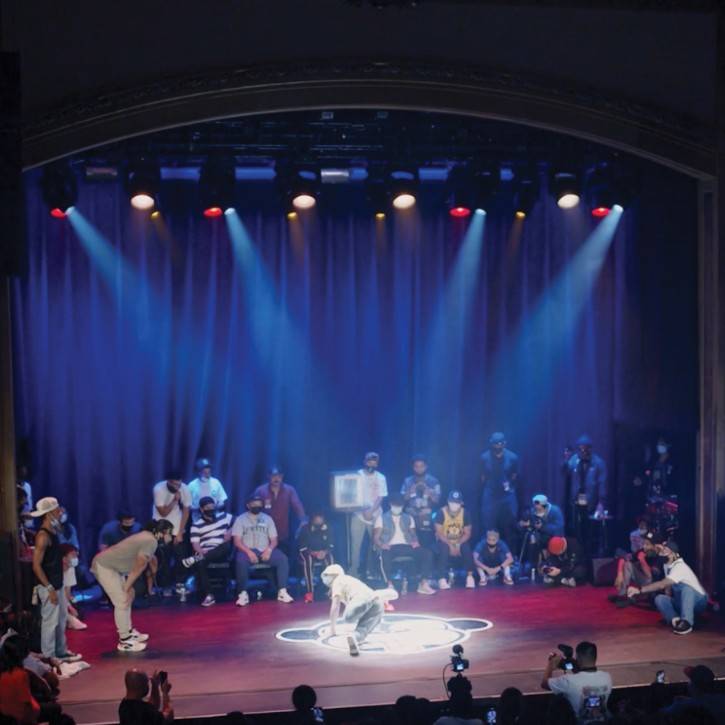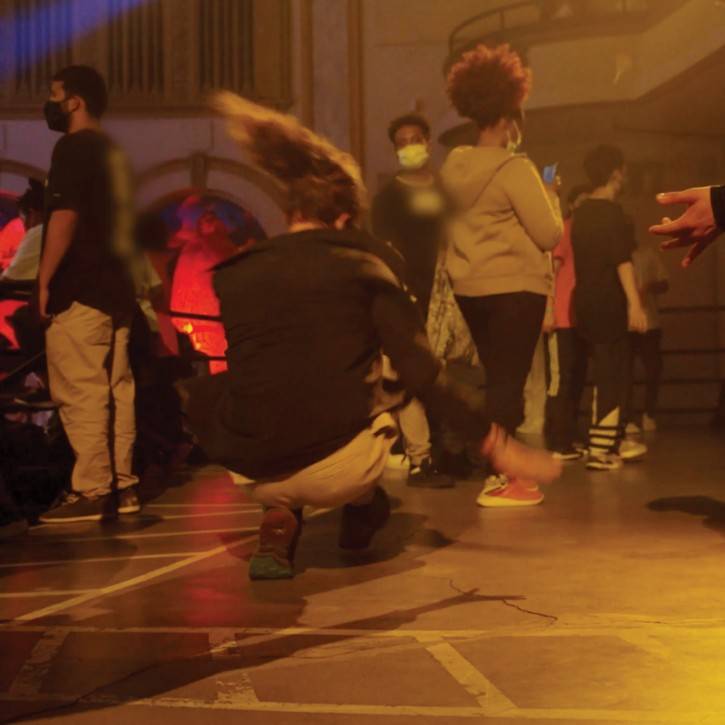 One event. MCs, DJs. Dancers. Judges. Countless number of fans. Showing up, coming together, and taking home one of the 1,000 T-shirts from the Midnight Supply Company merch table can be the key to building memories and sharing in a larger community experience. Wearing it later, it gives you 'Yeah, I was there' status. Geronimo nods, "It's so important to not see a T-shirt as just a one-time transaction — it's like this T-shirt lives on to tell a story."
"We've been given the opportunity to give these shirts — it's like you're a walking billboard. We're here to spread the message of the organization we've chosen to work with," says Geronimo, "It's the idea that these T-shirts are gonna go on a life of their own after this event."

A blank T-shirt is full of potential — just like the future and the next generation. Printed, it can drive inspiration. "T-shirts are little notes and messages to get whatever it is you're trying to say out there" says Geronimo. The BOD, Midnight Supply Company, and Massive Monkees have a lot to say and 1,000 shirts to say it with. "It came full circle when I was given the opportunity to produce something that would give someone else that same feeling that I have," says Geronimo, "It's definitely the passion that has brought me here."