Dave Gardner, sees the future of screen printing through the lens of its past.
###
Adapting
to
the
DTG
Evolution
Adapting
to
the
DTG
Evolution
A 30-year industry veteran, Dave Gardner, sees the future of screen printing through the lens of its past.
It was 1983 — my first screen printing job was at a Harley-Davidson licensee. It was direct-to-dealer. Back then, there were almost no screen-printed T-shirts of any kind in any retail stores. More often than not, the owner of the dealership would order 144 shirts based on what "they" liked. If those designs sold, they'd order more.
In two short years, the retail market shifted. Harley-Davidson T-shirts began selling alongside other printed brands like Ocean Pacific at JC Penny's and Sears. I shifted right along with it. An original run of 72-144 expanded to 5,000 plus.
Then the print runs got big. It was the 1990's and it was the Golden Age of licensed sports apparel. 300,000 pieces for a single design? That was pretty standard. As founder of Gardner Graphics, and partnered with New Buffalo, we were more than happy to print that kind of order for any mall in America that seemed to have a Foot Locker, Champs, and an Athlete's Den. We rode the wave of licensed sports apparel to unimagined heights.
As the millennium approached, the retail market shifted again. The licensed apparel business began to fade when brands began moving their operations to Asia. Gardner Graphics adapted and focused on a new print wear category—domestic Rock and Roll Event Merchandising. Then the print run numbers got even bigger. We had a warehouse stockpiled with a million dollars worth of blank black T-shirts. It was not unusual for acts like Garth Brooks or the Rolling Stones to sell 500,000 shirts of one design over the course of one tour.
Less than ten years later, the market fluctuations caused by the housing bubble crisis spread to the retail market. Retailers became hesitant to take a position on inventory. They would order 576 shirts, 4 times a week, rather than get caught holding merchandise on a failed tour. In 2008, there were no options like Direct-To-Garment (DTG) or Digital Hybrid to turn to. The efficiency in screen printing lies in long runs, and those kinds of print run numbers were only happening offshore. It was becoming clear that the relationship between market demands and the creative print technology used to supply those needs had to change.
For twenty-five years I watched the screen-printing industry shift in response to fluctuations in the retail and consumer markets. Periodically, the buzz about DTG printers displacing screen printing would get louder. In 1996 the first commercial DTG printer, ironically named "Revolution," arrived on the scene, but for the most part, I tuned out the noise. At that time, the machines were novelties. They were way too expensive, way too slow, the hand was awful, the print quality was low, and some pretreat smelled like cat urine. For the better part of twenty years, it appeared as if the "Revolution" had failed—but there was something bubbling under the surface.
Around 2015 I began to observe more and more DTG machines popping up at screen print shows. Over the next few years, DTG manufacturers incrementally improved the early printers' shortcomings, but they were still not viable for large-scale production. In 2017 Digital Hybrid machines which combine screen and digital printing became a promising option to cross the divide.
At that point, I needed to rethink my assumptions.
Signs of another market shift were on the horizon and this time the shift looked like it would come from within the industry. If the emerging DTG innovation was going to expand into mass production, I wanted to be on the leading edge. Throughout 2019, I made it a long-term objective to understand the ins and outs of DTG technology, where it is now, and more importantly, to consider carefully what impact it will have on our industry's future.
Screen printing has always been an attractive small business option for aspiring artists and entrepreneurs. Even though the cost of entry is low when compared to all other forms of manufacturing, one would be mistaken to discount the amount of work needed to produce a single printed tee. You might ask how anyone could ever justify that amount of work to produce one T-shirt? The answer is you can't. A screen-printing business relies on the economy of scale. After you earn back your set-up cost, you reach a point where you are printing for pennies per color.
On the other side of the business equation, digital machine manufacturers operate on the razor/razor blade model. They sell you a DTG machine one time, then count on you buying high-margin consumables over and over again. Unlike screen printing, the important thing to note is that with DTG, the cost is fixed no matter how many colors are in a single design. Shirt number one costs the same to print as shirt number one million.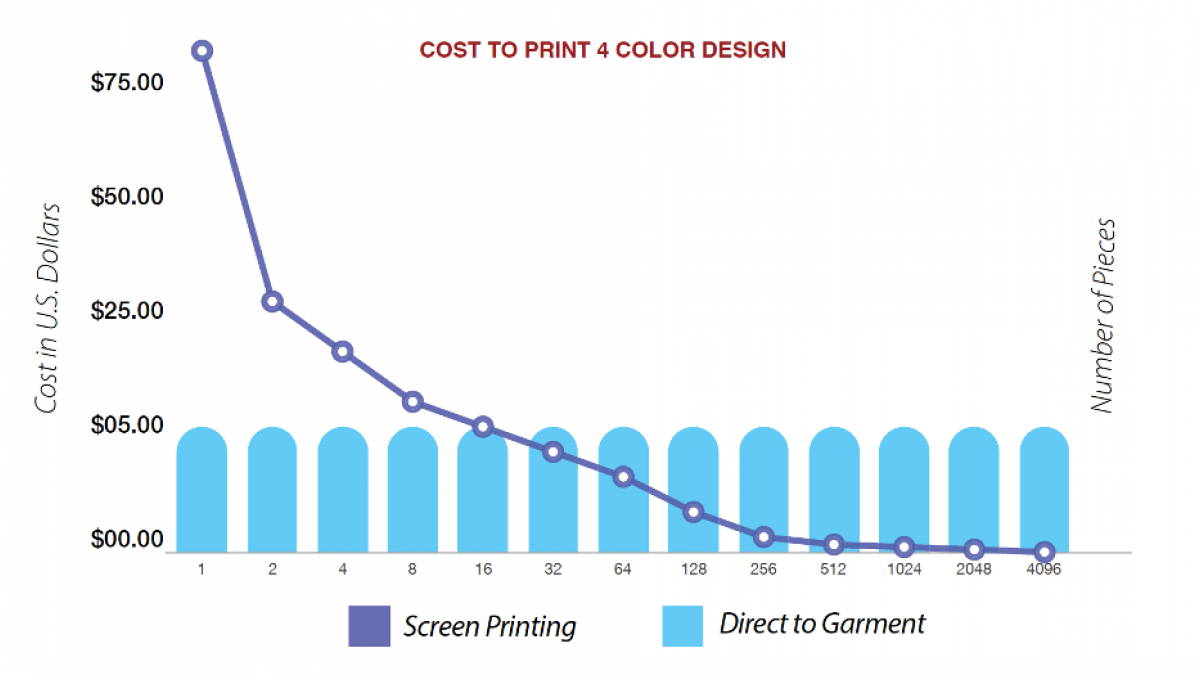 So, what do you do? You don't have any experience in screen or digital printing, but you are ambitious, and you have $30k to start your new venture. It's also 2020 and the retail, digital, and consumer markets have shifted one more time. It's now a direct-to-consumer, high-margin model. Mid-level retailers are even more reluctant to take a position on inventory. Given the choice between investing your money in screen printing equipment or a DTG printer and heat press; how do you decide? Will DTG ever fully displace screen printing if the fixed cost are so high? How will the consumer demand influence the market? How do you make the new print technology work for both creative and business goals in the short and long term? How does a print shop analyze the complex consequences of a such a big question?
Maybe the business answer isn't about choosing one over the other. The decision-making process might be about adapting to innovation and evolving your business model in creative collaboration with the DTG technology. Even well-established screen-printing shops are adding digital printers to expand their capabilities and compete in the growing direct-to-consumer small run arena. Adaptability is important to staying relevant in the industry.
The screen-printing landscape has been shifting gradually but the tipping point is approaching rapidly. DTG is no longer a clumsy novelty. It's a reality. It might not be the sudden or instantaneous revolution everyone thought it would be, but its digital technology, color capabilities, pricing, and consumer-based model are evolving the way the next generation of creative entrepreneurs will think about screen printing and garment decorating. The DTG and screen print markets are converging in a significant way. There is a compelling need to adapt to the changes this crossover is generating. How close are we to the tipping point? I can't say for sure, but I am thinking about joining the evolution.