If you're looking for new ways to add value to your services, consider heat pressing your cured screen prints. Learn more.
###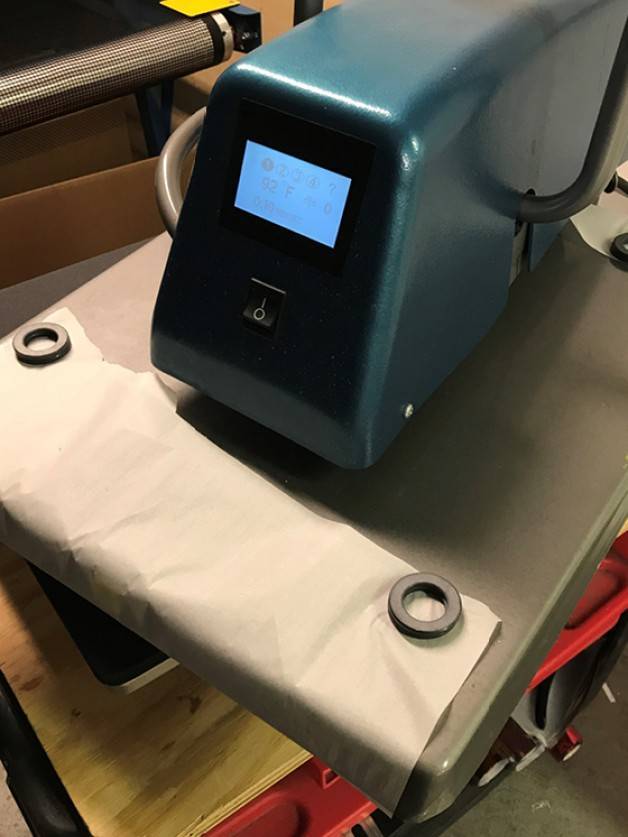 Cashing in on the Heat Press Advantage
BY MATT MARCOTTE
Cashing in on the Heat Press Advantage
Did you know that by heat pressing your screen printed designs after they've gone through the dryer, you can dramatically improve their appearance, durability and feel? Did you know that this is a service that even the nation's biggest brands willingly pay for on big orders because of the superior quality it adds?
At my shop, The Sound and The Fury Print Shop, Chicago, Ill., we specialize in doing creative, innovative work for local businesses, artists, musicians, and brands. We focus on complex, out of the box, unique printing at a quality level unheard of from even the largest print houses. And we do it with two manual presses.
During my 20 years in the industry, I have run big commercial, contract shops that are turn and burn. These companies printed for many of the largest athletic brands. I also sold M&R equipment for a period of time, so I've been in a lot of shops and seen a wide range of techniques and special effects.
What I have learned is it's a lot more fun and satisfying doing jobs that are challenging and have the end goal of making the final result look as great as possible. Often, in high-volume shops, time and money prevent investing the attention to detail and personal care that is required if you are looking to take your printing to the next level.
So that's why I started my current company. We do a lot of super customized, high-end boutique designs in quantities of around 150 pieces. Everything is printed and done by hand, which increases the quality. This is what we take pride in.
I learned a trick years ago while at one of my contract printer positions. Everything the shop did was heat pressed afterward. They could charge for it, because the athletic brand client understood the added value.
When you're printing for one of the top four athletic companies in the world, if they want it done, that means it's worth it. So I decided I was going to do it too. Our shop always takes that extra step to heat seal everything except puff jobs.
In another blog, Tips for Fine Tuning Your Finished Prints, I explain how to create glossy and matte finishes. I talk about how heat pressing gives you added control in determining the degree of gloss or matte you want. But there are additional benefits as well.
One common issue is overcuring the underbase of a print. When this happens, it creates bonding issues with the top layers of ink. By adding heat and pressure after the shirt comes out of the dryer, you force the ink down into the underbase, and this strengthens the bond. This prevents issues down the road with washability and durability.
Post heat pressing a design also can drastically improve the stretchability of the print, which is especially important when decorating on performancewear. And finally, it increases the smoothness of the hand. Overall, you'll find that the longevity and feel are much better.
We take pride in getting prints as flat and smooth as possible, keeping in mind that we use a manual press. We can't print 500 shirts and set the PSI and speed to produce every shirt exactly the same as is possible on an automatic. Heat pressing makes up the difference between how a manual print vs. an automatic one looks. It increases the uniformity of the manually printed shirts.
If we find toward the end of a run we're laying down a heavier layer of ink than at the start, heat pressing ensures the ink is properly bonding and smoothing out the hand. The only time we do not heat press after we print is when we are using a blowing agent or puff ink in the design to create a matte look or other special effect.
Heat pressing also diminishes fibrillation (fibers sticking up through the ink). Depending on the garment, we literally use a hand iron on the press. If the fabric is an open weave or is especially fibrous first, we'll lay down the underbase. Then we'll use a cover sheet and run the iron over the print for less than 10 seconds to really mash down those fibers into the ink.
The type of cover sheet we use depends on which finish we want. For glossy, we use a nonstick finish-coated sheet; for semi-gloss parchment or Kraft paper; and for matte, a piece of transfer carrier paper does the trick.
We have found our customer base sees a big enough difference that they are willing to pay for the extra labor. We show them shirts side by side (heat pressed vs not heat pressed). They realize that we are little more expensive than a shop using an automatic. But typically, when it's for an apparel designers' brand, they take a lot of pride in the finished piece and know it's worth the quality, and they say "Let's go with it."
If you ever look at heat pressed vs. non-heat pressed shirts side by side, you can see it makes a dramatic difference in the hand and the finish.
Our whole niche is focused on customers who are looking for hand-crafted prints that stand out from the rest, and they are charging accordingly for their shirts. This is not an extra step you will want to take when all your customer cares about is the cheapest price. But for those clients who are looking for added value, offering this service can definitely set you apart.
Matt Marcotte is the owner of Sound and Fury Print Shop, Chicago, Illinois. You can contact him at matt@marcotte.ink or check out his website at https://www.soundandfuryprint.com/; Instagram: http://instagram.com/sound_and_fury.