When you're creating a design for your customer, deciding on its size and placement can sometimes be as important as the design itself.
###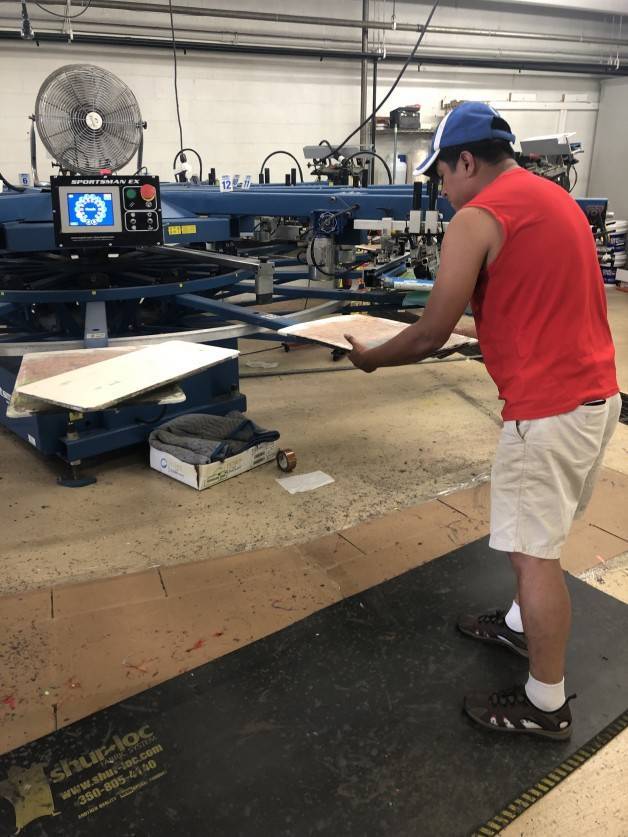 Sizing
and
Placing
Apparel
Designs
Sizing
and
Placing
Apparel
Designs
When you're creating a design for your customer, deciding on its size and placement can sometimes be as important as the design itself. This week, we talk to Emmy Handen from Bravo Screen Printing who shares some tried and tested rules that will always look great, which is especially useful if you're just starting out in the business. But she also lets us in on why it's important to break these rules when you need to, and why sizing and placement makes such a big impact.
When you're working on an order, at what point in the process do you weigh up the size of the design?
We'll start it in the sales department when we're asking the customer what they're looking for, and definitely when we're doing the artwork as well. We'll always try to proof the design approximately to the size it's going to be, respective to the shirt. We definitely need it to be the right size before it gets to screen because the last thing we want is to print the shirt and realize they don't like the size, and have to start all over. The one thing about sizing the design is that there are some rules, but there are also many times where you break those rules.
Could you take us through some of these rules for sizing?
When it comes to rules, it has as much to do with the look and feel of the logo, as it does the actual inches. So 12 by 12 is our starting point, but if it were a 12 by 12 square in solid ink, it would feel really big on the shirt. In that case, we would cut it down a little bit to a 10.5-inch or 11-inch square. If it's a design that's, say, words in the center with a starry sky behind it, you might even go 13 or 14 inches because it's not very dense.
For a left-chest design, we also have this rule that it's 4 inches by 4 inches. But, especially in embroidery, if you were doing a solid 4 by 4 square logo, that's going to look and feel huge. So we would cut that down a bit smaller. But, if the logo is just a line of text, sometimes 4 inches wide feels really small. We might go for 4.5 and sometimes 5 inches if the shirt is larger.
When sizing and placing a design, what are the top things you should keep in mind?
As a beginner, one thing you need to think about is what your capabilities are as a shop. If someone wants a huge logo but you only have palettes that are 14 by 14 inches, that's what you're limited to — that's a big one. Then readability for sure, if it's text. Another thing you need to take a look at is the range of sizes in your order. For example, we just had an order for a family reunion, and the sizes literally went from a 6-month-old infant's shirt to a 6XL shirt. So sizing something that would fit on everybody is important.
In that situation, what we decided to do was make the infants' shirts direct-to-garment with a little logo, and then we sized the screen print logo for all the other shirts in that standard 12 by 12 range. On the 6XL, the design might look a little small, but you also don't want to do a design for a large number of shirts and then change it for one outlier.
How do you size and place designs for different garment styles?
We'll have customers come in who sometimes order a couple of different garment styles. They might want a design in a couple of hoodies, and a few tank tops, and a couple of t-shirts. Keeping an eye on that from the beginning is important because of things like the pouch pocket on a hoodie which you can't always print over nicely. You would need to make sure the design is short enough that it's not going to hit the pocket. Another thing to watch out for is things like ladies tank-tops which have racerbacks. You don't have a lot of fabric there to print on, so if you're thinking about printing on the back, it would have to be on the lower back rather than across the shoulder blades, as it might be on a t-shirt.
Are there any placement standards you like to follow?
Generally speaking, when you're doing a print on the front that's small, you do it on the left-chest over the heart. If I remember correctly, I think it's because there's an etiquette rule where if you go to shake hands with someone, most people are right-handed so it would cover a logo that was on the right-chest, whereas your left-chest is visible - so someone can see where you're from. Another tip is that when a customer comes in who wants a left-chest logo and also something down the sleeve, we'll often recommend doing opposite sides so it's balanced for the eye. Printing is one of those things where you can know it looks funny, even if you don't know why. It's a combination of science and art: There are rules, but you also learn when to break those rules for artistic reasons.