Is the future of screen printing threatened by digital printing? Find out more about the impact that digital printing may have on the next generation.
###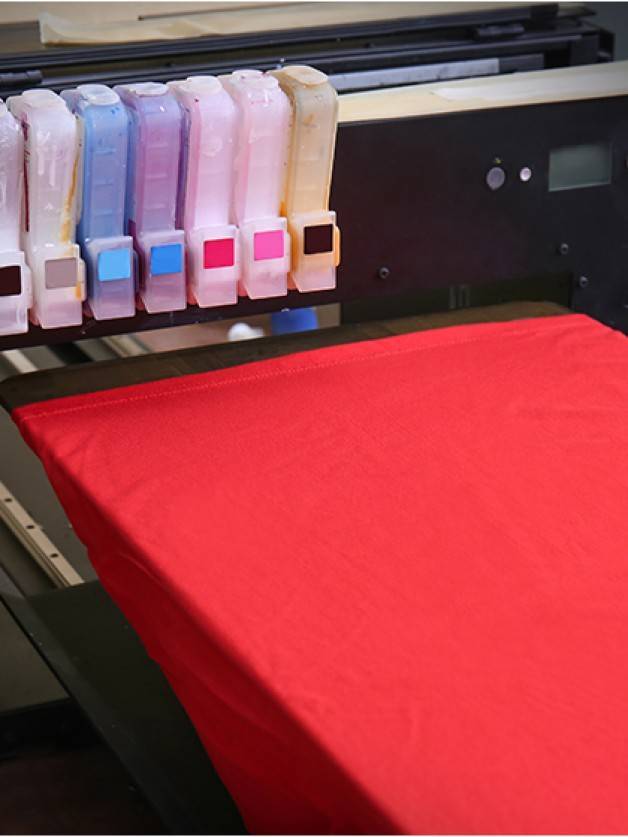 The Digital Evolution and the Future of Screen Printing
Contributors: Dave Gardner, Anthony Corsano
The Digital Evolution and the Future of Screen Printing
Digital printing is easier to learn and requires less space, cleanup, and labor. Will these advantages cause it to lure newcomers away from screen printing, and if so, how will this impact the industry?
Over the past 20 years, we have all seen the direct-to-garment evolution taking place. DTG has filled a void for smaller orders, mass personalization and fast turnaround, among other things, that screen printing could not.
From the perspective of a start-up business with limited knowledge, capital and resources, another advantage of DTG is that it has a shorter learning curve. In Dave Garner's blog My First Experience with DTG Printing, he says, "The printing part of a DTG machine is easy and straightforward. A tech was sent to train me, and that was a one-day process. From an operational standpoint, I found the machine easy to use. I was up and running within a couple of hours with a shirt profiled and printed in that time.
"I compare that to what I had to learn to screen print. This involved how to create separations, coat screens, mix inks, prepare squeegees, adjust screen registration, etc. There are so many variables you need expertise in. So in terms of training, there is no comparison."
There also is no comparison to the amount of space needed to get started. For digital, you need a printer, pretreat machine, and a heat press or a conveyor dryer.
To do screen printing, you need a printer to output films, a screen coating area, exposure unit, washout sink, screen drying space, ink mixing kitchen, screen registration section, screen stretching area (unless you buy prestretched screens), screen printing press, and conveyor dryer. As well as a place to store cans of inks, stacks of screens, and all the other consumables this process requires.
With trends in the decorated apparel industry moving toward more personalization and uniqueness vs. mass quantities of the same design, digital also has the advantage, because its forte is doing one-of-a-kind graphics or artwork that can be personalized on the fly. Which happens to be the kind of work a start-up operation would likely focus on.
"What I've seen change most is the market wants new," says Gardner. "They want less uniformity and more individuality in design. I think everyone loves a made-to-order, 100% personally customized T-shirt."
"From a designer standpoint, when I started out, I spent nearly a week on artwork and a week on the separations for a single design. Obviously, to justify that you must have runs of 30,000 to 50,000 pieces or more. But those size orders are dying off, he says.
"In 1982 when I worked for 3-D Emblem, Fort Worth, I designed shirts for Harley-Davidson Motorcycles. Those designs were offered in a catalog that went out to all the dealers. I had certain designs that ran for seven years," Gardner notes.
The growing move toward ecommerce, which has been boosted by the recent pandemic, also benefits digital in terms of profit margins, depending on the niche. While a digital print can cost up to several dollars more than a screen-printed T-shirt, consumers have proven willing to spend up to $25 online for a T-shirt they really want vs. a printed T-shirt they might buy at a big box store, which might go for $6-$10. So in markets that are less cost-sensitive, digital wins.
While there are distinct differences in how a screen print and a digital print look and feel, digital has the advantage in terms of allowing for finer detail, and depending on personal preferences, a higher-quality look.
"I'd say from a photo-realistic standpoint, DTG is better than what 95% of screen printers can achieve," observes Gardner. "There are only a handful of people who can do high-end 14-color simulated process separations in the industry that look photo realistic. DTG can do that effortlessly in less than 1/10th of the time, maybe 1/50th of the time."
Another plus from a newcomer advantage is digital is a cleaner process. Cleaning screens is messy, involving a high-pressure washer and chemicals, and ink that has to be scooped in and out of cans, which has a tendency to get on everything. Anyone who's ever seen the floor of a typical screen print shop will quickly understand these challenges.
Digital printing also eliminates the need for artwork separations needed for screen printing, which requires separate software or, if done in Photoshop, knowledge and experience to be done right. Artwork might still need to be tweaked to achieve a specific digital printed result, but still much less time consuming than screen print separations.
Labor is another key area newcomers are going to consider when choosing between digital and screen printing. "The labor involved in screen printing is what's going to kill you," says Gardner. "Even if you are talking about screen printing short runs of only of 36 to 100 pieces, for a shop to be effective, it's can't be only one person. Otherwise, it takes you forever to do one order."
"If I want to set up my own business, and be my only employee, digital blows screen printing out of the water. It's not even close, when you take into account all the labor that goes into producing the print," he concludes.
And finally, digital also offers the ability to print on a wider range of substrates. Using specialty platens, it's a simpler process than with screen printing to do shoes, infant and children's sizes, headwear, bags and other products that will not lay flat on a platen. The advantage for the start-up business is having the ability to offer printing on more products than with screen printing.
With these advantages in mind, industry observers have to wonder, will the next generation of apparel decorators choose to get started in digital vs. screen printing for all the reasons above? And if this is true, will screen printing become a lost art?
To find out about the future of screen printing, stay tuned to the next blog in this series coming your way.