Learn how to fine tune the finish of your print to be anything from a flat matte to a high gloss.
###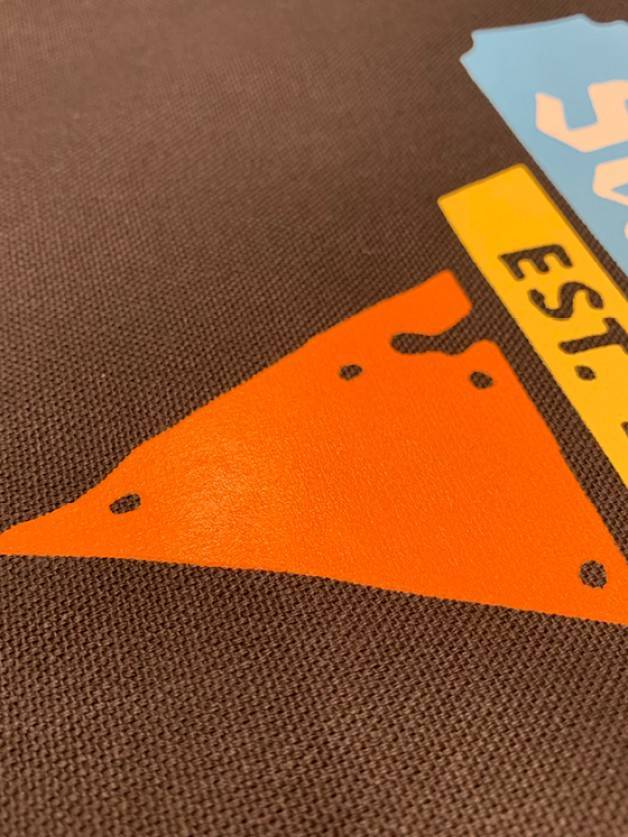 Tips for Fine-Tuning Your Finished Prints
By Matt Marcotte
Tips for Fine-Tuning Your Finished Prints
Learn how to fine tune the finish of your print to be anything from a flat matte to a high gloss.
The secret to success in screen printing is meeting your customer's expectations in all facets of the order. From customer service and delivery to the look and feel of the finished print.
One important aspect of any screen printed design will be its finish. To go from one extreme to the other, some customers want a shiny, light-reflecting high gloss while others prefer the conservative, understated muted look of a matte and everything in between.
Having been in the industry for 20 years, I've worked for a high-volume printer who did jobs for one of the largest athletic companies in the country, as well as sold equipment for M&R. Today, I have my own manual press boutique shop specializing in high-end, small-run jobs for brands, local businesses, artists, and musicians. I have spent decades perfecting the techniques for creating the perfect finish for any client's needs.
A big niche for my company is focusing on apparel designers who sell their shirts for well above the price of your typical screen printed T-shirt. This market is most concerned with a dramatic look. One that sets their design apart from others and is eye catching and unique.
For my streetwear and hip-hop culture clients, high gloss is the bomb. While I personally prefer a soft matte, this niche loves artwork with a glossy sheen, and I'm happy to give them what they want.
For the athletic market, which involves printing designs on high-polyester moisture-wicking apparel, their highest priority is the feel, which generally is a soft matte or semi-gloss finish.
But even within the sports market, there is a sub niche that is influenced by streetwear trends that still wants glossy. But they do not want a heavy hand, because no one wants to get sweaty wearing something with a bullet-proof graphic on it. So there's some compromise that has to happen with their shirts.
For the most part, I'll let them know we can do either, and often they'll say, "We defer to you." And then I use the matte.
How To Create The Perfect Finish
When deciding what degree of glossy or matte you want to create for your print, you will find a wide range of degrees between the two, and many different ways to control the ultimate finish.
Here's a review of what they are.
Underbase. This will be the starting point that determines which finish you want. And what this boils down to is how much white ink you lay down. The amount of ink is controlled, of course, by the mesh count, squeegee blade and how many strokes, as well as the thickness of the stencil.
The underbase also is affected by what kind of additives you put in the white ink. The thicker the underbase, the more of a gloss it's going to have.
Additives. With the use of ink additives, you can further control the finish. There are lots of additives that can be used to adjust the degree of shine or lack thereof.
A common type of additive is curable reducer. This creates a softer hand and reduces the viscosity of the ink. It also reduces the glossiness.
A blowing agent, or puff ink, can help increase a matte look as well as using a matte additive.
Heat Pressing. For anyone familiar with transfer application, you already know that depending on the type of cover sheet you use between the transfer and the heated platen, you can increase or decrease the shine of the print. This same principle works with screen printing, because both are created with the same inks.
For a shinier print, you can use either nonstick heated rollers on press or a hand iron with a cover sheet that has a nonstick finish to it.
In my smaller, manual shop, one way we compete is to offer a higher-end finished print. For any design we produce, we take the extra steps to heat seal the design if it's acrylic or plastisol ink.
Sometimes, using a hand iron, we do it right at the station on the platen. Otherwise, as soon as it comes off the dryer, it goes right to the heat press. Which cover sheet I use dramatically changes what the hand feels like and the degree of gloss.
For higher gloss, I use a nonstick finish sheet and for a semi-gloss look, I use parchment paper, also known as Kraft paper. For a matte look, I use a sheet of transfer carrier paper.
How I heat tap them at the end helps fine tune what that finished look is supposed to be whether it's matte, semi-gloss, or gloss.
It will come as no surprise to experienced printers that the higher the gloss, the heavier the hand. One way around that for someone who wants a high gloss with a soft hand is to use a clear or gel coat. Applied thinly, it can add shininess without dramatically thickening the feel.
Using a clear coat is not something I do frequently, but at times someone wants the print to look wet, or they want it to have an extra glow. High-density clear coats when heat pressed add more of a sheen as well.
Meeting Customer Expectations
Over time, you come to know your clients and their preferences with regards to the degree of gloss, but with any new customer, allowing them to compare samples and getting their feedback can make the difference between a satisfied client and reprinting a job.
In our early days of getting to know streetwear brands, we'd present a finished job, and they were like "Oh we were hoping it would be heavier." And our reaction was "What?!" And then we realized that we hadn't verified their preference and that was on us.
Fortunately, adding gloss is easily done if you know the tips and tricks. I was able to take the design back to the heat press, put a nonstick finish sheet over it and heat press it. It gave the print the gloss they wanted, while not adding to the hand.
Another rule of thumb to know when going for maximum shine is the higher the heat, the higher the gloss.
Obviously, you got to be careful with different garment types. With heat-sensitive fabrics such as polyesters, or lighter-weight fabrics, you don't want to have any bleed-through or forced migration.
Our streetwear clients love heavy 100% cotton shirts, and those are more amenable for doing the glossier designs that require higher heat. But be aware that your shirt's fabric content also impacts the degree of glossiness you can achieve.
Education Avoids Miscommunication
There's definitely some education that has to happen between you and the client to ensure you meet their expectations. Fortunately, almost everyone is familiar with the fact that house paint comes in matte, semi-gloss and glossy, so those terms are usually understood.
On the other hand, although I can do many degrees of glossiness, I've learned that revealing the full gamut of possibilities just complicates and confuses. So typically I give clients three options, and they choose the one they like best.
It is important to make customers feel like they are part of the print-making process. The goal is to build them up to feel like they're involved without actually getting them too involved, because they will bog you down.
When they have some say in the decision making and its outcome, it helps them want to come back as well have pride in the work you've done for them.
Matt Marcotte is the owner of Sound and Fury Print Shop, Chicago, Illinois. You can contact him at matt@marcotte.ink or check out his website at https://www.soundandfuryprint.com/; Instagram: http://instagram.com/sound_and_fury.