Lots of screen printers think dark shirts are harder to print. However, once you learn the process, the black tee will be your new best friend—and your customers will probably prefer a black tee for standout designs. Learn more from Lon Winters.
###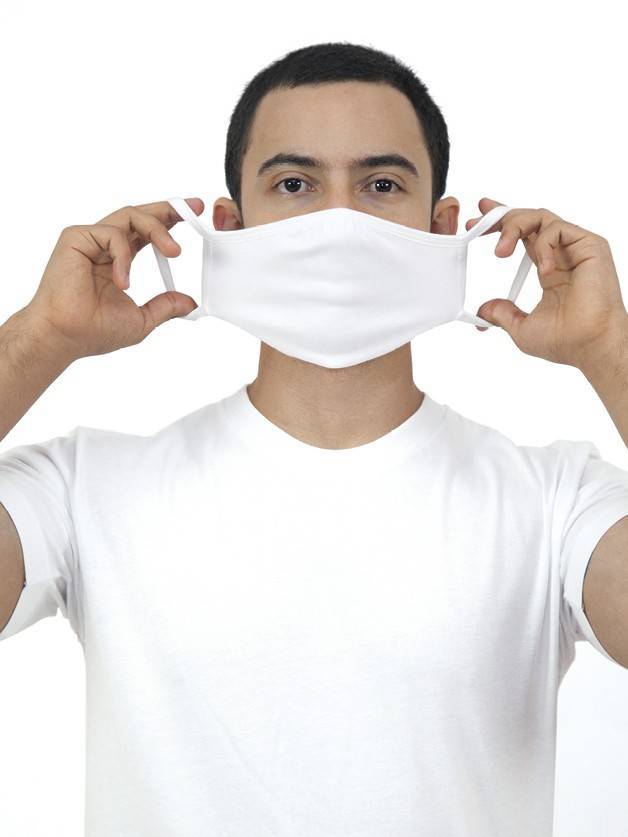 Top Tips for Decorating Face Masks
By Dave Gardner
Masks will be our new normal for the foreseeable future. As a printer, you're probably already imprinting masks or looking into it. The great news is that you can screen print face covers, or DTG print masks for personalized looks or smaller runs.
As you're probably aware, the Centers for Disease Control and Prevention recommend that everyone wear a fabric mask in public, regardless of health. The CDC has reported that we can spread COVID-19 even when we aren't showing symptoms. (And of course, face covers aren't a replacement for hand washing and social distancing.)
You've got no shortage of customers, as food service, retail stores, personal care providers, educational facilities, gyms and beyond are required to outfit their staff in fabric masks— which is a great branding opportunity. Plus, public transportation will most likely require staffers and passengers to wear face covers, as a more permanent safeguard.
Here, we answer the 7 most common questions we've gotten about selling and printing face covers.
How do I choose the right mask to print and sell?
Look for a reusable, washable fabric mask that fits the wearer's face snugly. Since people will wear masks for full work shifts, face covers need to be comfortable and breathable. Order sample masks from suppliers to test print and wear them yourself to see which styles you'd feel good selling.
We recommend the washable and reusable GEMASK Gildan® Adult Everyday 2-Ply Mask, made of soft 100% ring-spun cotton. This non-medical grade face cover is comfortable and breathable for everyday wear. The ear loops are covered in soft cotton fabric for a flexible fit. A chin dart provides snug support. This mask is treated with an antimicrobial agent that contains silver to control odors.
What do I need to know about the best artwork and placement?
The good news is that masks are easy to print with screen printing or DTG. Also, you won't be using a lot of ink per face cover. The easiest prints are one color with a darker ink on a light-colored mask. You can also print two-color designs on a lighter mask.
Typically, we see one- or two-color prints in front of the mouth or on either the right or left side. These designs are smaller, usually about 1 to 3 inches. For better breathability, some printers do a step-and-repeat pattern with more open space if it's placed over the mouth area.
Smart art design is key, since you don't want to restrict airflow. Remember that comfort and breathability are essential here.
Any special tools that I should invest in for printing masks?
If you're screen printing or doing DTG on masks, consider purchasing a mask pallet. For example, Action Engineering offers a screen-printing pallet with a hold-down platen to minimize movement at the print layer. This lets you print multiple colors. Key Print Co. sells a mask pallet for Brother and Epson DTG printers.
If you don't have a mask pallet (and don't want to invest in one), you can print a face cover using a 4-inch sleeve pallet or a 6-inch pocket pallet. When printing a high volume of masks, it makes sense to invest in the right tools to speed up your production time.
How about tips for screen printing masks?
Many printers use water-based inks since they're printing over the nose and mouth areas. In addition, since most masks have elastic in the ear cuffs, high curing temperatures can affect the elastic. Water-based inks cure at a lower temperature, alleviating that risk.
If you screen print, use as high a mesh in your screens as possible. And if you're printing on a white or light-colored mask, base your colors back a bit. That creates a smoother, lighter hand. Be aware that the thicker your ink, the more it'll lift or move the top layer of the mask when the screen lifts after the squeegee prints.
What do I need to know about DTG printing on masks?
If you're DTG printing on a white mask, you don't need to pretreat the fabric if you're concerned with restricting airflow. However, be aware that the colors might not be as bright. In my experience, the pretreatment soaks into the fabric, rather than obstructing airflow like a very thick swatch of ink might. (Printing on the right or left side of the mask is a way to avoid this.)
If you want to DTG print on a black or dark mask but don't have a mask pallet, there's a way to ensure you don't put too much pretreatment on the fabric. Fold the mask and only pretreat and print on the left or right side of the mask.
You can put a scrap layer of fabric between the two halves if you want to prevent pretreatment from soaking from one side to the other. If you do this, I recommend using a belt dryer rather than a heat press, since the straps are thicker than the mask fabric.
What if I want to DTG print on a mask but don't have a conveyor dryer?
If you need to heat press a DTG-printed mask, you'll run into a problem with the straps or the edging since it sits higher than the print surface. When you load a T-shirt onto the heat press, you don't touch the seams or neck.
In this case, you can cut a ¼-inch or ⅜-inch contoured jig plate from neoprene or pallet rubber that won't melt under a heat press. Then, insert the jig into the mask and pretreat it. Set it on top of the DTG pallet and lower it to allow for the height of the jig. This will ensure that your face mask print surface is higher than the mask straps and edging.
What are your best tips for handling masks?
Of course, you should follow the CDC's and your state's specific guidelines for working in safe conditions. For example, you're probably scanning people's temperatures before they enter your shop and asking about possible COVID-19 symptoms or exposure.
Your operators should wear face covers and gloves during the printing process. When the masks come off the conveyor, try to immediately move them into a lined box or individual bags for delivery or shipping.
Tip: When you ship screen-printed or DTG-printed masks, recommend that end-users always wash the face covers before wearing them to remove any loose ink or chemicals used during the printing process.
Ultimately, you'll learn the best, most efficient ways to print non-medical masks for the markets you serve. Adding masks to your decorated-apparel lineup makes good business sense, and helps flatten the curve.